Cover Illustration by Rhonda Libbey
This week's City Paper cover features our fourth illustrated cover of Gov. Tom Corbett since his 2010 election, the second by artist Rhonda Libbey. As election day nears, we thought it would be worth looking back at Corbett's history with our cover (Spoiler alert: he's shirtless a lot).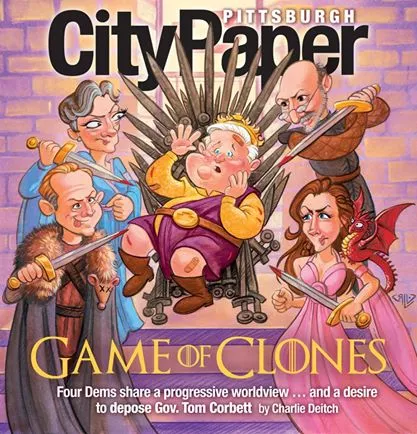 Cover Illustration by Rhonda Libbey
In May, Rhonda drew the governor along with the four Democrats fighting for the chance to unseat him. The governor looks a little worse for the wear here but our favorite part is the baby dragon on Katie McGinty's shoulder.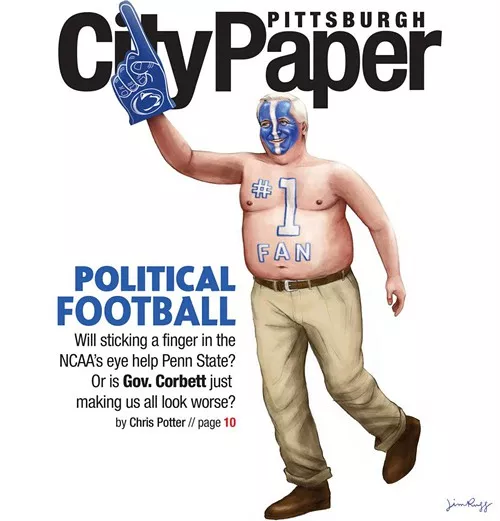 Cover Illustration by Jim Rugg
In January 2013, Corbett tried to help his image by suing the NCAA claiming the harsh penalties it gave the school in the wake of the Jerry Sandusky sexual molestation scandal was against federal law. This marked the second time that artist Jim Rugg illustrated the governor and the second time he depicted Corbett shirtless.
Cover Illustration by Jim Rugg
And that brings us to our first-ever Corbett cover illustrating a story about the business-friendly tax breaks the governor was handing out. Inspired by Time Magazine, we decided the best way to illustrate the metaphorical suckling of big business at the government teet was to literally show it. This cover led one very well-known Democratic political figure to call and tell me, "I was handing these out in Harrisburg by the dozens!"