Thao Nguyen and her band, the Get Down Stay Down, reminded Pittsburgh of the power that a passionate female frontman can have over an audience this past Saturday night.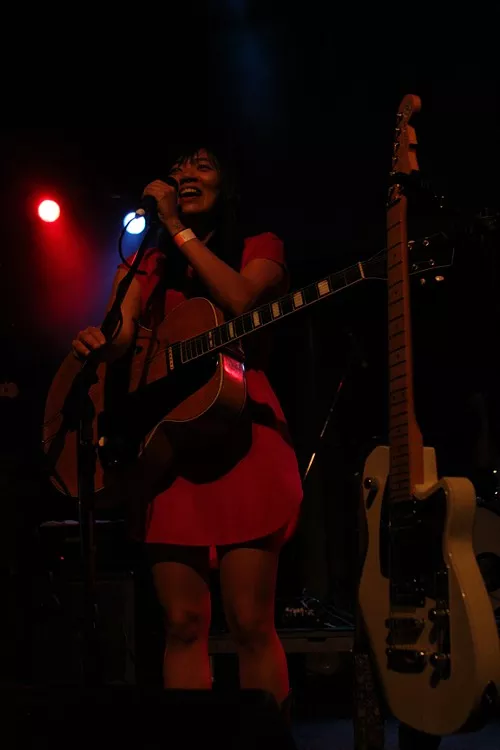 Thao Nguyen
First up was local act, Gypsy And His Band of Ghosts, who served up some buoyant folk-rock to get the night started. They harmonize in a way that brings Fleet Foxes to mind but in combination with a high BPM and bouncy drum line, they have a sound all their own.
Gypsy And His Band of Ghosts
Up next was Portland sweetheart Lady Lamb the Beekeeper. She stood in the dark and let her mellifluous voice, a fusion of Janis Joplin, Feist, and Jessica Rabbit, take center stage as she sang her first song in a capella. Light, tingy loops of electric guitar provided additional dimension to her vocals, and amped up the audience for guitar goddess Thao Nguyen.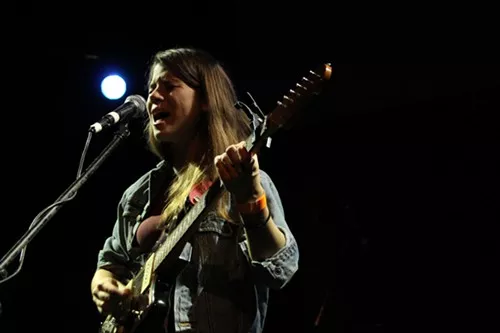 Lady Lamb the Beekeeper
About twenty minutes after Lady Lamb finished up, the Get Down Stay Down took the stage. In a pink chiffon dress and cowboy boots, Thao bounced closely behind her band, swung her acoustic guitar over her head and under her arm and gave the audience a quiet greeting. But once in song, that adorable shyness shifted into full blown sexiness as she and her band threw themselves into the music. She was backed by her drummer, bass player, and keyboard/vocalist while she rotated between electric and acoustic guitar, banjo, and mandolin. There was a point, mid song, when she put down her guitar and joined her drummer on percussion. I'd wondered if that would be the peak of the performance, but then as soon as the thought crossed my mind, Thao broke out in Ludacris' What's Your Fantasy, and absolutely every person in the crowd lost it.
Thao Nguyen
It felt like there were no limitations to Thao and the Get Down Stay Down, they were there for just that; to get down and to stay down. This was their first visit to Pittsburgh, but hopefully not their last.