Upward of 1,000 people just witnessed performances by some of hip-hop's best. Rapper Kendrick Lamar is nearing a platinum plaque for his major label debut album, Good Kid M.A.A.D. City, and made his first headlining Pittsburgh appearance on Stage AE's outdoor stage. Sporting a white t-shirt and TDE hat (TDE: Top Dawg Entertainment, Lamar's music group), the audience sang along with every word of his set. Rapping songs from his popular 2011 album Section.80 and the aforementioned GKMC, which HipHopDX named 2012's Album of the Year, Lamar's DJ often cut the instrumental as the Compton representer proceeded to engage responses from his audience with acapella performances.
Lamar performed his hits: "The Recipe," "Swimming Pools," and his guest verse from A$AP Rocky's "Fuckin' Problems," all of which have received heavy WAMO 100 airplay. A pleasant surprise was his encore performance of a loose single and fan favorite, "Cartoons and Cereal," which circulated on blogs prior to his GKMC album release last year and tells a story of being raised 'in a sandbox' surrounded by gang members and women giving birth.
A late addition to the concert was an opening performance by Kid Ink, one of XXL Magazine's 2013 Freshmen, which highlights ten aspiring rappers that the publication believe will have a major impact in the year ahead. The tattoo-covered RCA Records artist was first to hit the stage around 7:30PM and had the audience of mostly 18-24 year olds hands in the air, waving along with his music. His Almost Home EP was released just a few days ago and the audience appeared to already be familiar with some of the Los Angeles-born rapper's new music.
Kid Ink's performance was followed by solo performances by each member of Lamar's TDE crew. Jay Rock, who later returned during Lamar's set to perform his verse from the song "Money Trees," Ab-Soul, and Schoolboy Q each performed with only the assistance of their respective DJ's. Schoolboy Q received a particularly warm response as he walked on stage blowing smoke and praising all the marijuana smokers in attendance before tossing whatever he was smoking into the audience and beginning his set. Both Q and Lamar's sets induced small mosh pits and periodic crowd-surfing as much of the crowd jumped up-and-down and side-to-side during certain songs. Each TDE rapper displayed a great amount of clarity and breath control, making what they do look easy as they nearly flawlessly breezed through their performances.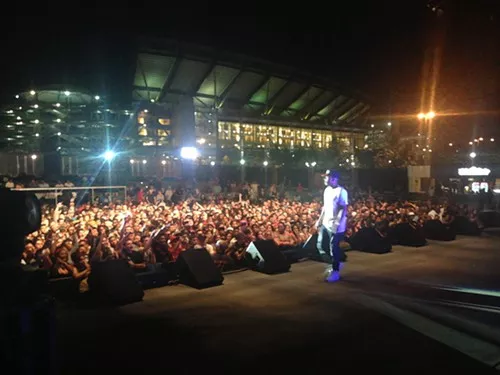 Photo by Jordan Gilliam
Kendrick Lamar performs at Stage AE