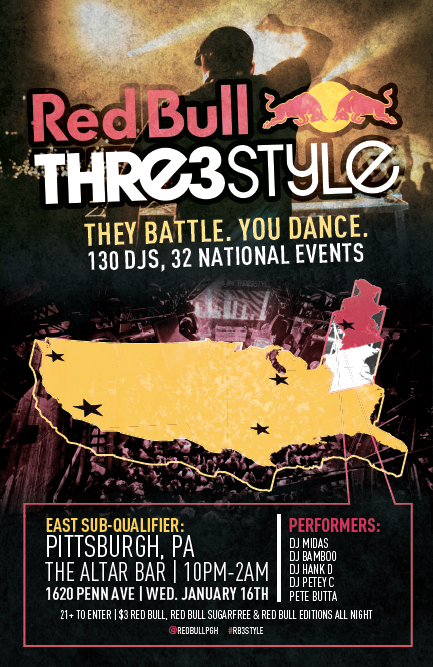 This Wednesday, Jan. 16, five popular Pittsburgh DJ's will be competing in the Red Bull Thre3Style DJ contest. The event will be held at Altar Bar in the Strip District, and the winning DJ of this qualifier round will advance to compete in the East Regional in Philly on Feb. 2. For more information and to RSVP, visit the official Red Bull Pittsburgh event page.
This Wednesday's competitors are DJ Midas, Pete Butta, DJ Hank D, DJ Petey C, and DJ Bamboo. We asked them three questions that will let you know a bit more about their background and thoughts heading into the contest.
Describe your style/format as a DJ.
DJ Midas: I do an open format. I like to have a lot of scratching, I like to incorporate that in my set to keep it entertaining and creative. I'm the type of person that likes to mash-up a rock song with a hip-hop song, I pretty much like every genre though.
Pete Butta: My style is versatile and unique in the sense that I'll play records that I feel are on the verge of becoming popular, like on the cutting edge. When people come to see me they can expect to hear good music, and stuff that's being played in cities around the country. At the end of the day I'm gonna play to the crowd and give the girls what they wanna hear, but my style is definitely a bit more cutting edge.
DJ Hank D: I mix up different styles of music, the way original hip-hop DJ's did like Grandmaster Flash and Kool Herc, to try to find out what each individual crowd wants to hear and give it to them but also with my own taste mixed in too.
DJ Petey C: I'm pretty eclectic with music, and definitely jump around a lot. In this day and age, where everyone has access to so much music, I think people generally start having a bigger variety themselves. So, I've incorporated that into my style when I'm out — because not everyone wants to hear just dance music, or just hip-hop when they're out.
DJ Bamboo: My style is based off of scratch-battling. Huge inspiration comes from West Coast DJ's and their battle styles — raw, real grungy. This Wednesday you can expect a lot of party-rock. A lot of people around town don't know me as a big party-rocker DJ, but you can expect it this Wednesday. And on top of that, real clean transitions and cuts.
In your experience as a DJ, what's the wildest thing you've seen?
DJ Midas: I've seen a lot of people fall. There's probably a lot of things I shouldn't mention. I've had some people come up to me to order a drink before. They've come up to me and were so blacked out and didn't realize what they were doing and they would ask me for a drink, like, trying to order a drink from me. This is usually on St. Patrick's Day that something like this would happen.
Pete Butta: I can't say wildest, because every time is wilder and wilder. How about this — I recently did a show in Atlantic City with The Come Up at the House of Blues. Like two minutes before we get on, this area starts freaking out, and all of the sudden everyone starts yelling "She's peeing, this girl's peeing!" And this girl just started peeing in the middle of, like, 2,000 people on the floor.
DJ Hank D: Probably some sexual stuff, that's just run of the mill though. Nothing too out of the ordinary, just people getting freaky. Every once in a while a fight breaks out, and that's unfortunate.
DJ Petey C: I used to have a residency at Jimmy D's. It was a Saturday night, it was packed with a few hundred people on the dance floor, and this dude walked up to the bar and said he wanted to buy the entire club a shot. I got on the mic, shouted him out, the club went crazy. Girls just started coming out with trays, and trays, and trays of shots. The whole club just took a shot that this dude bought everybody. It definitely added to the night and got the club a little more crazy.
DJ Bamboo: Last St. Patty's Day, I was DJing and some dude was drunk right in front of my DJ booth and he started spraying his beer like champagne. He shook it up with his thumb over top of the bottle and it was spraying all over the place. It covered all of my stuff — my sweatshirt, my laptop, my turntables. I was soaked.
What's the first thing you'll do if you win Wednesday's Red Bull Thre3Style?
DJ Midas: Thank everyone that supported me, that's the first thing I would do.
Pete Butta: I'm gonna cry. My parents are coming out. It's a blessing to even be in the competition, we've all put so much work into it. There's a lot of emotions in it, that's all.
DJ Hank D: I'll do a round of shots with all my homies. I don't usually do shots either, but if I win I think for the occasion it would be appropriate.
DJ Petey C: Take off work the next day. I'll party with my friends and soak it all in.
DJ Bamboo: I'll have a Red Bull and vodka, and thank all of the competitors. All of those dudes taught me how to DJ basically. I sat in night clubs watching those guys DJ when I was first starting out. I'm, like, the young one of the group. It's really an honor for me to be in the same breath as those guys. So yeah, definitely thank them.