Energetic pop rock was in abundance at Altar Bar this past Sunday as Cassadee Pope's solo tour came to town. Pope, the lead singer of Hey Monday, shared the stage with Pittsburgh's own Call To Attraction, the female-led quartet Darling Parade and the incredibly charismatic Stephen Jerzak. The evening had an intimate setting as all of the bands interacted with the audience frequently while also delivering animated performances.
Call To Attraction kicked off the show with a set of hard-hitting pop jams, relying heavily on catchy guitar rhythms and the impressive vocal range of lead singer Ryan Wood to create a party-like atmosphere. "Caught Me Dreaming" showcased Wood's upper range and drummer Dylan Wood's consistency, as the tempo changed multiple times. The four-piece act livened up the dark and hazy Altar Bar to prepare the audience for more even contagious pop cadences.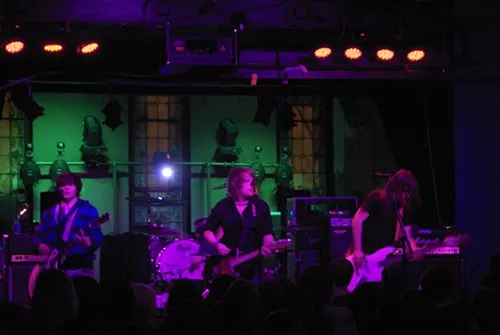 As Darling Parade prepared to take the stage, a soft techno beat echoed throughout the room. The light sound silenced the room just as the band broke into a heavy guitar and bass line. The abrupt change in music made for a striking contrast that enraptured the crowd. Lead singer Kristin Kearns entered the stage shouting, "Let's go people," and immediately the band's camaraderie could be noticed, as bassist Nate McCoy and guitarist Adam Hatfield smiled at Kearns between choruses.
Darling Parade gave off a gritty vibe, which was a nice transition from Call To Attraction's cleaner sound. Their songs had a more mysterious, entrancing vibe, such as "Remember," which the band created with Anberlin frontman Stephen Christian. The band, who had not played in Pittsburgh before, commanded the stage with a few unexpected synthesized beats and Kearns' infallible belting, making it clear that they know how a good pop rock song is to be structured. McCoy ripped into his guitar solos like he had a personal vendetta against his strings, and drummer Casey Conrad assailed his cymbals like he was attempting to break down the Wall of Jericho. At the end of the alt-rock frenzy, Kearns called out to the audience, "Take our music home with you!"
As Darling Parade packed up their gear, a throng of girls lining the front of the stage screamed out of joy repeatedly as they watched Stephen Jerzak ready himself for his acoustic set. The crooner enjoyed the attention yelling, "Pittsburgh, let me hear you," as he postitioned his hands on his guitar.
Jerzak's quirky personality made songs like "King" and "Party Girl" entertaining while his excellent picking skills made them flawless. He exhibited his versatility by covering Jason Derulo's "It Girl," which he dedicated to his girlfriend. His vocals' shining moment came during "Small Town Celebrity," a fast-paced tune that allowed Jerzak to show off his stamina due to its long-winded lines of lyrics. He performed with an aggressive approach and charming nature.
After Jerzak's performance, Cassadee Pope quickly took the stage with a guitarist, violinist and a bongo player accompanying her. Pope, who played guitar for most of her set, performed a variety of Hey Monday songs, her own songs and a cover of Natalie Imbruglia's "Torn." The songstress conversed with audience members between songs, discussing her connection to Pittsburgh, the story behind the success of Hey Monday's first single "Homecoming," and the inspiration behind a few songs, like "I Don't Wanna Dance," which she wrote simply because she was tired of hearing so many popular songs about dancing.
Pope connected with her audience the most at the end of her set when she asked for requests. She admitted that she might not remember all of the chords or lyrics for a few songs, like "Fall Into Me," during which she corrected herself several times, but the crowd did not seem to care about the minor mistakes. They applauded loudly afterwards, to which Pope replied, "You guys are too nice. That was horrible."
While belting the choruses of songs like "Candles," Pope captured the audience's attention with her range and vocal strength. She proved herself as a solo artist by sharing her new material while also listening to the requests of the many Hey Monday fans in attendance.