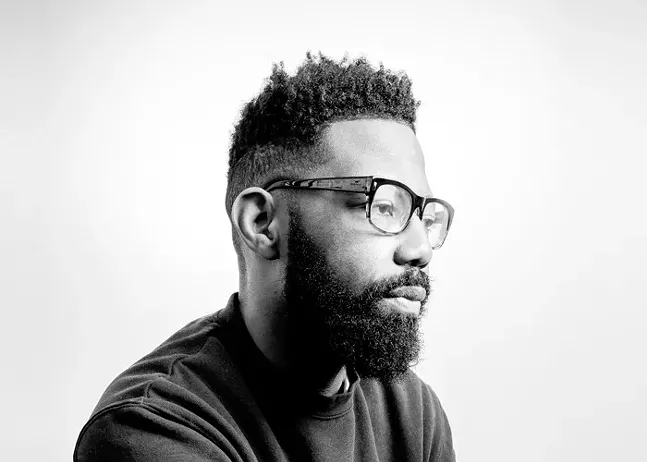 Damon Young hopes college students will be surprised by reading his book. For one thing, he doesn't think they'll expect to find it funny.
"There are ways to tell serious stories, to tell nuanced stories," Young tells Pittsburgh City Paper. "To tell sober and sometimes devastating stories with humor."
The Pittsburgh-based writer is coming to the University of Pittsburgh on Mon., Feb. 13 for a conversation with Dr. Michael Sawyer, an associate professor at Pitt who teaches African American literature and culture. Sawyer says he's eager to dig into Young's writing process, especially when he's depicting the common experiences of Black people in urban spaces.
"I'm from Chicago, and much of his work resonates with what I understood and experienced growing up and living in a city," Sawyer tells City Paper. "He uses humor to get at some things that are really troubling to people, and I think that's a valuable way to understand existence."
The conversation is presented by the David C. Frederick Honors College and part of their Black History Month Programming. Copies of Young's 2019 acclaimed memoir What Doesn't Kill You Makes You Blacker will be given to students.
To Young, writing a memoir is a negotiation. He says that writing a memoir puts the author in a strangely God-like situation.
"What I mean by that is, you are the one who decides what goes in the book," Young tells CP. "You're telling a story not just about yourself, but in connection to a time, a place, a theme."
His advice to young writers? Read. "Be a voracious reader," Young says. "Become aware of and familiar with as many different types of writing, as many different methods, as many different styles."
Young co-founded Very Smart Brothas in 2008 as a blog for Black news, opinions and culture. The Washington Post, which Young now writes for as a columnist, called it "the Blackest thing that ever happened to the Internet."
Since publishing his memoir in 2019, Young has started a podcast called Stuck with Damon Young. The first episode aired in March 2022 and featured Nikole Hannah-Jones, creator of the 1619 Project.
Sawyer says that much of Young's work is about finding and making spaces in places where you're underrepresented, which is relevant for Black students at a predominantly white institution.
"I think what's most important for students at [predominantly white institutions], or students anywhere for that matter, is to figure out what your community is and make the place what you want it to be," he says. "Because it's your school."
Sawyer, author of An Africana Philosophy of Temporality: Homo Liminalis and Black Minded: The Political Philosophy of Malcolm X, says he's excited for Black students to hear from an author who writes about and understands their experiences.
"How you then make a place for yourself at an institution like Pitt is supporting and participating in events like this and asking for more."
In Conversation: Damon Young & Dr. Michael Sawyer. 7 p.m. Alumni Hall, University of Pittsburgh. registration required. Calendar.pitt.edu. Free.