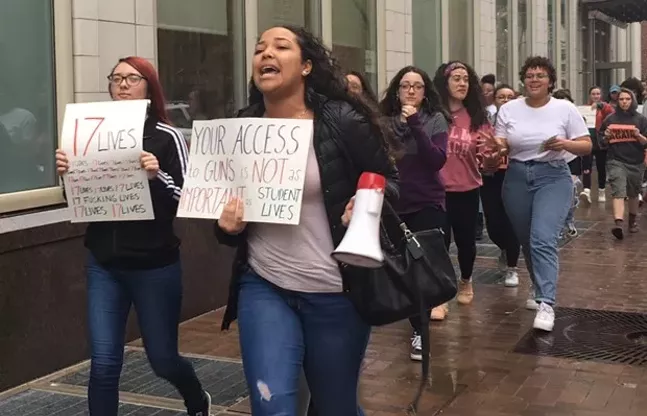 Update: Point Park University issued the following statement on student protests on Wednesday:

"Point Park University respects the rights of students to express their opinion on important issues related to violence in our society. During the admissions process, students are asked to disclose any disciplinary issues related to their time in high school. As part of the University's one-on-one approach, we work to understand each student's unique situation."
For the past two weeks, high school students across the country have been staging walkouts in protest for gun reform, following the Feb. 14 mass shooting at Marjory Stoneman Douglas High School, in Parkland, Fla. Last week, students at the Pittsburgh Creative and Performing Arts School (CAPA)
left class
and marched to Market Square Downtown for an hour-long protest and memorial for the 17 students and faculty who lost their lives in the shooting. But the next day, CAPA administrators confirmed that the students who participated in the walkout would face disciplinary action in form of a one-hour detention after school. (The detention was
rescinded
on Friday, with Principal Melissa Pearlman opting instead to hold small-group discussions called "restorative circles" for the participating students.)
This week, a growing number of high-profile colleges and universities made statements assuring prospective students who are taking part in peaceful protests that those actions would not affect the admission process. Earlier this week, Carnegie Mellon University and the University of Pittsburgh issued similar commitments; Duquesne University issued one today.
You can access the full list of universities and their official statements
here
. As of Feb. 27, the
list
, created by a student at the Massachusetts Institute of Technology, includes more than 200 U.S. colleges and universities.
Two other similar resources have developed in the wake of the shooting. The National Association for College Admission Counseling created a
database
which makes it easier for prospective students to access a particular school's policy on how political activism plays a role in its admission process. Contact information for admissions offices are also included.
Similarly, the Never Again Action List provides a simple
catalogue
of U.S. universities who have issued official statements of commitment to the #NeverAgain movement, which was created by students at Stoneman Douglas to demand gun reform. If a school has not made an official statement regarding the #NeverAgain movement, users can fill out a pre-made form urging the administration to get involved.
For more information on what forms of student protest can be legally punished, here's an overview from the
American Civil Liberties Union
.