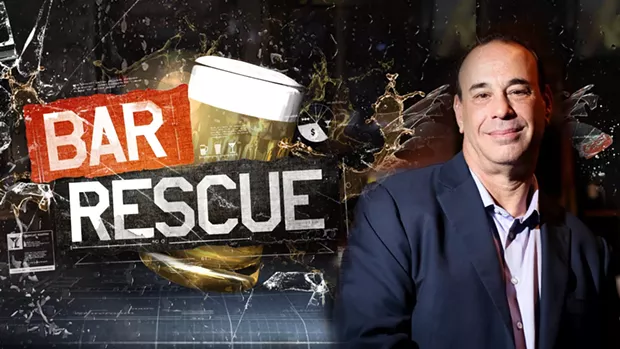 Pittsburgh is a town that really values its rough-around-the-edges dives, so it will be interesting to see if
Bar Rescue
, the hit docu-reality series from Spike TV, meets more than the token resistance when it rolls into town to film later this year. The series, heading into its sixth season, is hosted by bar consultant Jon Taffer, who has been called "the Gordon Ramsey of the bar business," a towering and gregarious man who plays the no-nonsense businessman trope. His catchphrase: "SHUT IT DOWN!"
The premise of the show is fairly straightforward. Taffer is brought into struggling neighborhood bars in an effort to get them turned around and making a profit again. He offers help with renovations, equipment and advice. The drama usually begins with Taffer identifying problems — from simple mismanagement to outright criminal behavior from the staff and owners.
Gossip, undercover surveillance from large SUVs, recon missions, long sequences of Taffer yelling while incredibly red in the face and intense one-on-one talks are the order of the day. The yelling and fighting are punctuated with heavily dramatic music and the typical "tough guy who cares" moments from Taffer. Bravado isn't particularly out of place in the restaurant industry (especially the televised portion), but Taffer's earned himself a reputation as a contentious figure in the bartending community, as noted by a quick look on Google. Take
this
, for example.
That being said, the show is currently looking for bars to cast for its Pittsburgh episode. If you have a bar that needs a makeover and little-to-no shame about probably making a fool of yourself for the entertainment of others, then by all means drop the show a line. Additionally, if you'd be willing to throw someone else under the bus in the form of a suggestion, ideas are welcome. For submissions or suggestions, email
this address
. Casting visits will take place in the beginning of December. And to take a peek into the series, click
here
.