When
Marvel Comics
and
Ed Piskor
announced tonight, at the
San Diego Comic-Con International
, that Piskor had landed an unprecedented special project, it was a new high point in the Pittsburgh-based comics artist's skyrocketing career. But like any superhero tale, Piskor's new gig — an epic, multi-publication retelling of the X-Men saga — has a compelling origin story.
Over three years, starting in December, Piskor, of Munhall, will release a series of six 40-page comics titled "The Grand Design" that unifies the first 280 original issues of X-Men into a single storyline; each year, the latest two issues will be republished as a trade paperback including a classic X-Men story.
This sort of large-scale retelling is unique in Marvel's history, Marvel assistant editor Chris Robinson tells
CP
. What's also unique, in the highly specialized world of big-time comics, is that the project is truly a one-man show: Piskor will write, pencil, ink, color and letter every panel, likely the first time in Marvel's history a single artist has had that honor.
If you've followed Piskor's career, this might seem an odd plot twist. He's known, after all, as an indie-comics guy who got his
first big break
drawing for alt-comics icon Harvey Pekar's
American Splendor
. Piskor followed up with
Wizzywig
, a self-published, cult-favorite series about a computer hacker. And his magnum opus to date is
Hip Hop Family Tree
, a four-volumes-and-counting graphic history of that music and culture, published by Fantagraphics. The critical and commercial hit won a prestigious
Eisner Award
and has notched
multiple printings and translated editions around the world
.
So what's with Piskor and these superheroes — specifically, teen-aged mutants the X-Men, one of Marvel's most valuable properties and the focus of a film franchise now numbering ten features that have grossed $5 billion worldwide?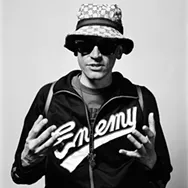 As it happens, destiny might have been at work: The X-Men were actually Piskor's first comics crush. Speaking to
CP
last week, by phone, Piskor, now 34, recalled drawing the X-Men, in their original costumes, at age 12. As a working-class Mon Valley kid, he even launched his own monthly X-Men comic — fan fiction, if you will. "I never got very far with those," he admits. "But you can see the evidence that this was brewing in my mind my whole life." (Some of Piskor's juvenalia, including X-Men renderings, were displayed as part of his recent
solo show
at Pittsburgh's ToonSeum.)
The X-Men, created by Stan Lee and Jack Kirby, debuted in 1963, introducing characters like Professor X, Cyclops, Beast, Angel, Iceman, Marvel Girl/Jean Grey and their archnemesis, Magneto. Piskor caught up with them only some 30 years later, but still kind of grew up with the comic, including its early-'90s re-launch by Marvel, and an animated TV series and Genesis video game.
"I became enchanted with the whole universe of it," he says. The idea of mutant teenagers, he says, is "a cool concept that any kid can identify with: being an outsider; they get their powers at puberty." He adds, "It's my favorite comic that Marvel has ever put out."
While fans of, say,
Wizzywig
might be surprised to know of Piskor's youthful superhero fascination, its influence is all over
Hip Hop Family Tree
, which debuted in 2013 and renders hip-hop pioneers like Afrikaa Bambaataa and Run-DMC in terms, tones and poses fit for classic Marvel superheroes.
Flipping the script, last year Piskor was one of 70 artists who contributed to a series of
poster books
casting Marvel heroes on famous hip-hop album covers; in a bit of foreshadowing, Piskor chose to pose X-Men in a recreation of Camp Lo's 1997 album
Uptown Saturday Night
.
Piskor says he originally connected with Marvel in 2015, over artwork he tweeted out depicting a line-up of some 50 X-Men characters in the style of
HHFT
. "I just said, 'Marvel should let me make any kind of X-Men comic I feel like making,'" he says.
Both Marvel editor-in-chief Axel Alonso and Chris Robinson, Piskor's editor there, are fans of
HHFT
and of Piskor's gritty, humorous style, Robinson says. "There is no one that looks like him," says Robinson by phone from New York. "It's something special." And while this is Piskor's first foray into full-length superhero comics, Robinson says that Piskor is well-known in the book market —
HHFT
was on the
New York Times
best-seller list — and that there is some overlap between the fanbases for
HHFT
and superhero comics.
Piskor pitched retelling the X-Men saga as a single story, rather than as the series of more or less unrelated episodes that spooled out over several decades. "It tells them in a way [that] it all seamlessly goes together, even if in reality it wasn't like that," says Robinson.
As a kid, Piskor says, he was drawn in by the series' complicated, self-referential nature. But as an adult, he says, he saw how the first three decades of the X-Men saga, with its ongoing themes and characters, could be streamlined, shorn of what he calls "redundancy," "deus ex machina nonsense" and stuff "that completely doesn't work."
As with
HHFT
, he sees "Grand Design" as an editing job as much as a cartooning challenge: How to maintain flow while weaving together disparate storylines as though they were meant to be told that way from the beginning.
If that sounds like a dis, it isn't. Piskor praises X-Men contributors like comics legend and long-time writer Chris Claremont: "I don't look down on this material at all," Piskor says. "I have great admiration for these comics, and I consider this project to be built on the shoulders of giants."
"I'm not doing anything insanely controversial with the material," he adds.
Still, as seen in previews of the first two issues Piskor made available, he's definitely putting his own stamp on the X-Men. His down-to-earth drawing style feels like a throwback compared to the slick, high-def artwork common in contemporary comics, and of a piece with his irreverent humor.
Piskor adds that he'll draw also on influences seldom seen in contemporary comics, ranging from Prince Valiant creator Hal Foster and Scrooge McDuck creator Carl Barks to Japanese manga.
After issue No. 1 of "Grand Design" hits in December, look for No. 2 in January, and the first trade paperback in April.