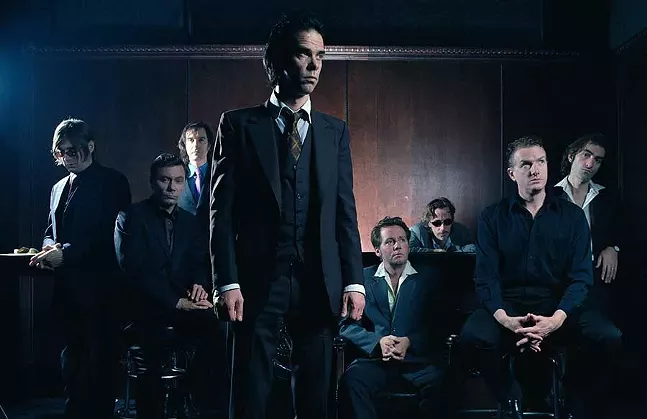 "I come from a different school of frontmen. Full-on attack," Nick Cave says in a recent interview in GQ.

"It's an attack on your audience of some sort. It's just the way it's always been."


He goes on to explain that the approach onstage has changed in recent years. "It feels much more that there's something coming back.… Something different has been happening with the audience—a kind of dynamic, emotional exchange—that is quite beautiful."
In some ways, it's surprising that Cave admits to such a change now. Sure, his days with the Birthday Party cemented the image of a full-on attacker, pouring every caterwauling ounce of energy into the band's visceral, deranged take on punk rock. But things shifted once he began fronting the Bad Seeds in 1984. They created an equally mangled sound for Cave's lyrical outlook, but his first single was a beautiful, unironic cover of Elvis Presley's "In the Ghetto." For every brutal moment, Cave could also provide some solace, or at least a little levity.
1996's
Murder Ballads
—which leaves a trail of dead bodies even before getting to the spree in the 14-minute "O'Malley's Bar" — ends with a cover of Bob Dylan's "Death is Not the End," with verses sung by all the album's guests, including PJ Harvey, the Pogues' Shane MacGowan and Kylie Minogue, along Cave and various Bad Seeds. It feels gentle and reassuring, and a tad humorous after all that preceded it. After all that, Cave's next album,
The Boatman's Call
, went in a softer direction, at least sonically.
Part of Cave's new outlook comes in light of personal tragedy. In July 2015, his son Arthur fell from a cliff near their home in Brighton, on the south coast of England. The
GQ
article explains that following Arthur's death, Cave plunged himself into his work, completing the recent
Skeleton Tree
by the end of the year. The songs on that album could be construed as dedications to his 15-year old son, but songwriting actually took place prior to the event. Besides, Cave admits that "songwriting is an immensely positive act, nothing to do with sadness or depression, no matter what you're writing about." While making the album, filmmaker Andrew Dominik produced
One More Time with Feeling
, a movie which chronicles both the making of the album and the way Cave dealt with Arthur's death.
Despite all that, don't expect any radical change in Cave's onstage delivery, which he once compared to a "deranged preacher." He still stalks to the edge of the stage during some of the wilder songs, often touched by devoted fans. "There's an energy I'm getting out of the people up front," he says in
GQ
. "A kind of very immediate validation for what you're doing. There's all sorts of things going on—there's love, and terror…I don't know." Considering his set list still often includes vintage Bad Seed songs like "Tupelo" and "The Mercy Seat," it's easy to get caught up in such emotions.