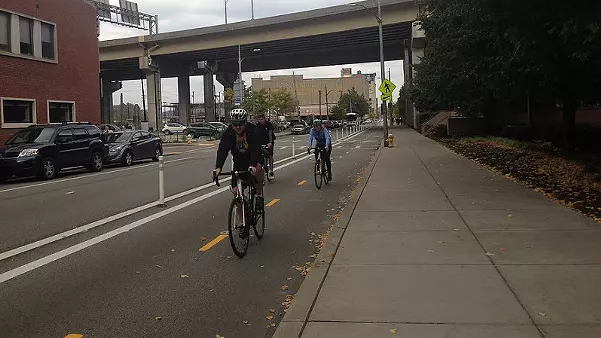 Pushing back against new bike lanes is becoming a Pittsburgh tradition. When Mayor Bill Peduto started to install the lanes a couple years ago along Penn Avenue, in Oakland and elsewhere, there was outcry from business owners, residents in the neighborhoods and drivers worrying about parking. Granted there was also support from hundreds of bikers and advocates, but that support tended to be
downplayed by media outlets
.
Now, two years after having set up protected bike lanes Downtown on Penn Avenue (which sometimes receives more than
1,000 trips per day
) and the Roberto Clemente Bridge, the city is still facing strong push-back on an extension to that system along Fort Pitt Boulevard. In response, Pittsburgh City Councilor Theresa Kail-Smith (District 2) is proposing the creation of a bike-lane committee to field complaints and suggestions for new bike lanes.
However, as advocacy group Bike Pittsburgh points out, there already is a Complete Streets Advisory Committee being set up that can field road-design complaints, such as for bike lanes.
"We believe that [Pittsburgh] should first concentrate on getting the Complete Streets Advisory Committee off the ground and running — a committee that was written into the Complete Streets bill that unanimously passed council in November," wrote Bike Pittsburgh director Scott Bricker in an email to
City Paper.
"If a bicycle-only advisory committee is still needed, so be it, but they should figure out how it will coordinate with the Complete Streets Committee so that the two are not redundant."
In addition to the Complete Streets committee, Pittsburgh's Department of City Planning conducts numerous public meetings every year led by bike/pedestrian coordinator Kristine Saunders, where complaints and suggestions about new bike-lane projects can be filed.
CP
has sat in on many of these meetings, which are always held in the neighborhood directly affected, and they usually include many representatives from both the pro-bike-lane and anti-bike-lane creed.
Nonetheless, the
Pittsburgh Trib Live
reported Jan. 3 that Kail-Smith was motivated to set up a bike-lane committee due to "numerous complaints about existing lanes Downtown from residents who say they take up space for street parking and cause traffic congestion."
But the assertion that bike lanes cause more congestion actually runs contrary to studies in multiple big cities across the country. In New York City, a protected bike lane on Columbus Avenue actually improved congestion,
decreasing travel time for cars
from 4.5 minutes to 3 minutes along a 20-block stretch. In Minneapolis, the U.S.'s top bike-commuting city, news-data website fivethirtyeight.com studied 10 segments in the Minnesota city in 2014 and determined that the addition of a bike lane at the cost of a car lane had
no affect on traffic times for cars
.
In fact, a 2013 University of Virginia study shows that bike riders only reduce congestion
when they have bike lanes to ride in
. The Fort Pitt Boulevard proposed extension to Downtown's protected bike lane would add about half-a-mile of lanes and connect directly to the Great Allegheny Passage trail, which runs to Washington, D.C.
The proposed bike-lane advisory committee will be discussed at 10 a.m. Wed., Jan 11, in the city council chambers, located on the fifth floor of the City-County Building at 414 Grant St., Downtown.