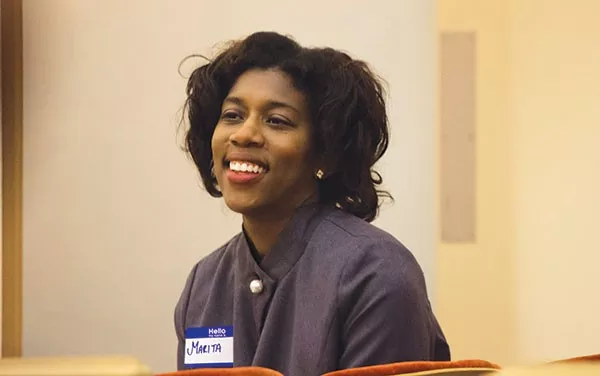 Wilkinsburg Councilor Marita Garrett announced yesterday that she would be running for mayor in the upcoming May primary election.
"Here we are at the top of 2017 and there's so many things on the horizon," Garrett said in a live video on her Facebook profile. "And that's why I proudly announce that I am running for mayor of Wilkinsburg in 2017.
"I will continue to appreciate your support, your encouragement and your help. Wilkinsburg, we're moving forward, progressing. It's such a great community here. Our residents really are social change agents and I just want to continue that."
Garrett will face off against Wilkinsburg Mayor John Thompson, who was elected in 2006. She tells
Pittsburgh City Paper
she's been considering running for mayor for a year, but her final decision was reinforced/by the results of the recent presidential election.
"A majority of people really thought we would have our first female president. Letting our young girls know this is something that can happen was important to me," Garrett says. "It really shocked and devastated a lot of people. It's time to get more women running at all sectors. Especially here in Pennsylvania. Never having a woman governor or a woman senator, it's time."
Garrett took office in January 2014. During her
time on council
, she's played a role in key initiatives including a quarterly series of community conversations designed to bring the Wilkinsburg council to the people. She says these meetings have led to increased community engagement throughout the area.
But despite progress in Wilkinsburg, Garrett's community gained negative national attention last year after a
mass shooting
left five dead. Garrett says incidents like these detract from the positive improvements occurring in the community, such as the Wilkinsburg Sanctuary Project, aimed at reducing youth violence, and the Wilkinsburg Citizen Police Academy.
"A lot of people outside of Wilkinsburg might not recognize those initiatives that we have around public safety," Garrett says. "Public safety is still a concern. There's still things we can do as a community to improve. But we have a great police department."
A
campaign
kickoff event will be held Jan. 19 from 5:30-7:30 p.m. at Biddle's Escape.