Allegheny County Chief Executive Rich Fitzgerald said Tuesday that he considered relieving for-profit health-care provider Corizon from its duties administering health care at the county jail in May. He ultimately decided doing that would put inmates at further risk.
At that time the county was taking fire from activists and inmates over several inmate deaths that occurred during Corizon's tenure at the jail. The county instead decided to take over health-care service at the jail when the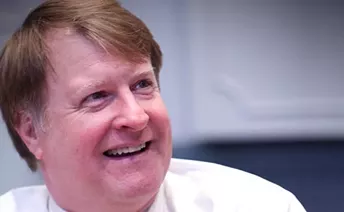 company's contract expired in September. But many people took Fitzgerald to task for not immediately removing Corizon from the jail.
In a meeting with a
City Paper
writer and reporter, Fitzgerald said there needed to be a "transitional period" to ensure the safety of the inmates. "I wanted to do that," Fitzgerald said when asked if he considered dumping the company in May. "But we realized it just would have made a bad situation even worse.
Fitzgerald discussed several topics including the transition of health care at the county jail. The county took over as the primary health-care provider for jail inmates — with partnering efforts from Allegheny Health Network — on Sept. 1, thus ending Corizon's controversial, two-year tenure.
"If we would have broken the contract, we would have put a critical population in danger," said Fitzgerald's chief of staff Jennifer Liptak, who added there would have been no immediate health care at the jail if the contract had been broken immediately. "We had to build a hospital from the ground up in four months."
Fitzgerald said the process involved consulting many medical sources, like Dr. Arthur Levine of University of Pittsburgh's Medical School and hospitals like AHN and UPMC.
"We wanted to clean house," FItzgerald said. "But we had to do it the right way or there could have been more deaths."
The county has also increased the budget for health care at the jail by $3 million dollars for 2016. Liptak says that this increase will mostly be applied to increased staffing, among other areas.
Now, according to Fitzgerald, the county has much more control and has established a local supply chain for jail health care. Fitzgerald says that medicine for inmates is provided by the Kane Regional Centers (the county-run nursing home system), which has led to a "more reliable" supply of medication. County Manager William McKain says that Corizon shipped in their medication from Tennessee, which is where the company is based.
Fitzgerald also addressed the outcry from activists calling for reform at the jail. Some critics want to see an activist as part of the county's Jail Oversight Board. Currently there are three citizen members of the oversight board and, according to the county's website, two citizen seats will expire at the end of this year. The county executive will appoint their replacements.
Additionally, the Allegheny County Jail Health Justice Project is calling for the firing of warden Orlando Harper. Also, the two candidates for the Allegheny County Council District 13 seat, Denise Ranalli-Russell and Khalid Raheem, also believe Harper should be let go.
However, Fitzgerald defended Harper and said he has no intention of firing him. "This warden has done a terrific job," says Fitzgerald. "I can't think of a harder job than he has."