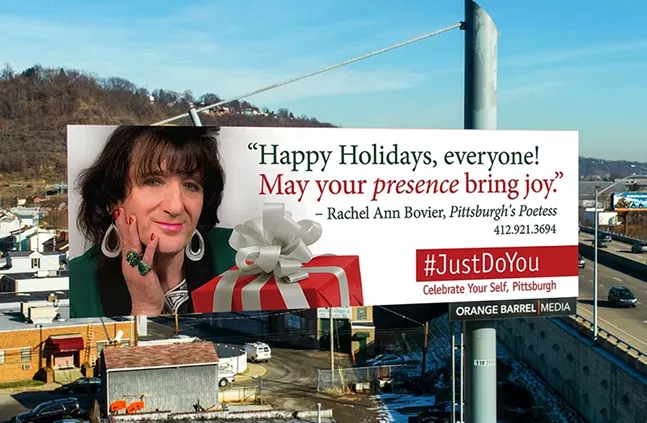 The city lost an eye-catching landmark when Pittsburgh's self-proclaimed "poetess"
Rachel Ann Bovier
could no longer run her delightful, self-funded billboards along Bigelow Boulevard. Now drivers along Route 28 can see Bovier again thanks to new billboards from local advertising and marketing agency, BOOM Creative.
BOOM sponsored the special holiday board — which features Bovier with a message reading "Just Do You. Celebrate Your Self, Pittsburgh" — as a kick-off for its "Just Do You." campaign, described in a press release as celebrating "the spirit of individual expression and personal worth throughout the city."
BOOM president Scot Fleming says the company came up with the idea as a way to continue Bovier's signature billboard project.
"Rachel's billboards always brought a smile to our faces when we drove past them," Fleming says. "When we found out she had been paying for them [for] years and had run out of funding, that's what got us thinking about this."
BOOM will run the billboards at no cost to Bovier as part of a contract with Orange Barrel Media, the company that owns the digital board spaces on which they advertise.
Fleming says the campaign was also inspired by BOOM's work with public health awareness efforts. Over the past five years, the company was involved with several different campaigns — both at the state and county levels — covering substance abuse prevention, mental health and wellness, addiction recovery, and more.
BOOM creative director, Nyde Handley, believes the campaign continues the mission of Bovier's original billboards by focusing on spreading an uplifting, inclusive message.
"In today's increasingly fragmented society, there are all too many opportunities for people to be made to feel marginalized or 'less than' for a multitude of superfluous reasons," says Handley. "For years, Rachel's poetry and billboards have inspired Pittsburghers with simple, exceedingly positive sentiments that advocate finding yourself simply by being yourself. That important spirit of unique 'self' is something that BOOM wants to celebrate."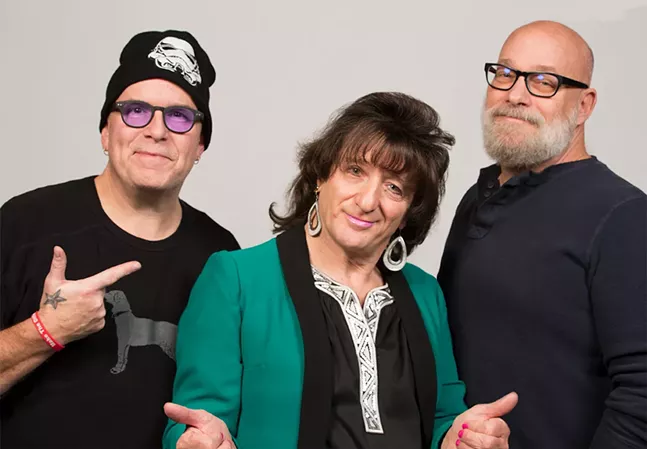 Brett Yasko, a local artist, curator, and filmmaker who has been working on a documentary about Bovier, calls the BOOM campaign "incredibly generous" and agrees that it's more than just advertising. He adds that while Bovier's former billboards featured a phone number for people to contact her, it operated more as part of the public art aspect of the project.
"Yes, Rachel has picked up a few gigs from the boards (not all of them were paid), but the main reason she puts her number on there is so that someone will call and leave her a message," he says. "She never answers the phone. She just sits in her office and listens to the answering machine. A few are mean, but most are amazingly sweet and positive. She's made a lot of people happy with what she does."
Like Handley, he believes Bovier's billboards resonated emotionally with Pittsburghers but admits people were also attracted to "the strangeness of it all."
Even as more advertising and promotion moves online, Fleming says "big-impact, outdoor advertising will always have its place and advantage as a relevant messaging tool as long as people still drive to work and home every day." But, as Bovier's case demonstrates, platforms like billboards are often too costly for independent artists and musicians.
Fleming hopes campaigns like "Just Do You." inspire others to find ways to close the gap between the advertising industry and the local arts community, mainly for the benefit of the city as a whole.
"We think the potential is there for companies that own these billboard spaces to augment a city's landscape artistically, socially and aesthetically," he says. "It would be wonderful to see the board owners collaborating more with artists or designers, or advertising agencies like BOOM, to give a little bit of all our time and energy into some billboards that aren't just there for advertising's sake, like the graffiti or wall murals that have been punctuating Pittsburgh's urban landscape. The real estate exists, and especially with digital boards, it's virtually cost-free for them to put up a new design in a minute by pushing a button."