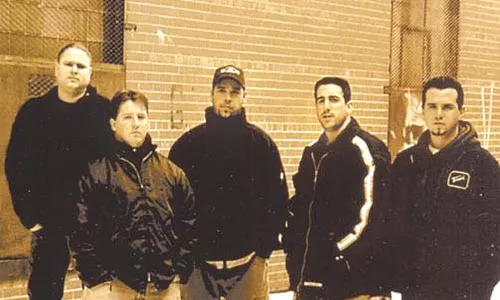 Pittsburgh has always liked its punk, hardcore and metal, and probably always will. Reunions of Half Life and Battered Citizens have been well received, and now one of the frontrunners of Pittsburgh's third hardcore wave -- Gutrench -- is also attempting to return to the scenes of its crimes.
Gutrench was formed in 1996 by childhood friends guitarist Dale Sadowski and singer Mark Bernardo, and released its debut, Forlorn Hope, in 1997 At that juncture, hardcore was experiencing a resurgence as local bands pummeled the newly heavy-music-friendly 31st Street Pub, and Gutrench opened for the likes of Sick Of It All, Agnostic Front and Biohazard at the now-defunct Graffiti while never neglecting the DIY show circuit.
Influenced by bands such as Integrity, Gutrench's sound was an intermediate hybrid between the swift moshing of the earlier New York scene and the ultra-doomy metalcore later to emerge with bands such as Hatebreed and Lamb of God. "It had more metal in it than the older bands," says guitarist Damian Yenick, whose resume includes Commit Suicide and The Zimmerman Note. "But we kept the older-school hardcore feel, like Bad Brains and Agnostic Front."
Original Gutrench dummer Jeff Carr was replaced by Keith Hurka, who recorded the second Gutrench album Never Forgive, Never Forget in 2000 in Cleveland with Bill Korecki (Integrity, Earth Crisis). "As soon as we wrote that album," recalls Yenick, "people saw us grow as a band. So we thought we might as well take it to the next level."
While it continued opening for national acts in Pittsburgh and garnered local supporters, known as the "Ironside Crew," Gutrench couldn't mount a serious tour, and went on hiatus in 2001. "When you want to practice two to three nights a week and try to play shows on weekends, it puts a damper on your personal life," Yenick says.
Five years later, Gutrench came back screaming out of the gate, this time with drummer A.J. Borish, known for running the Planet of the Apes venue and throwing shows at the Roboto Project. With a handful of new songs under its belt, Gutrench hopes to record an EP with Eric Klinger (Pro-Pain, Built Upon Frustration) and shop it to labels like Century Media and Stillborn.
"A lot of bands and friends kept asking us what we were going to do," Yenick says. "So let's say there was a slight demand for a comeback. We all missed playing live. When people saw us back in action, it reminded them of how strong we were back in the day."
Gutrench with Stinkpalm Death and Night Terror. 9 p.m. Fri. April 6. 31st Street Pub, 3101 Penn Ave, Strip District. $5. 412-391-8334 or www.31stpub.com