"Authentic" is a word that comes up more than once during a conversation with Neal Casal, guitarist and co-songwriter for the band The Chris Robinson Brotherhood. "There's a reality to our theme that I think is in short supply in a lot of music in our present time," he says over the telephone from his home state of California.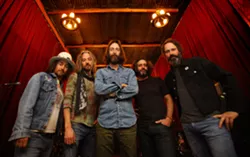 "Look at our charts, look at the upper reaches of popular music. It's dominated by music that's barely recognizable as music. Not that we're trying to do anything archaic ... we're always writing new music. But there is an authenticity to our band that I would say is the over-riding theme."
The CRB's music usually starts with the birth of a song from Robinson, the frontman of the on-hiatus band The Black Crowes. Casal said Robinson usually has a "pearl of an idea," which they both then work with to create a finished piece.
Casal said he will take a Robinson "pearl" and add a chorus or a bridge or just a melodic idea. The end result is a mix bag of psychedelic rock, old style R&B, soul, country and jazz, according to Casal.
The two met in 2001 while Casal was in Beachwood Sparks — a country band formed in the late 90s — and jammed informally a couple times. They stayed in touch, and when Robinson was ready to start a new chapter of his career in The CRB, he buzzed Casal and offered him the job.
And now the band is coming to Mr. Small's Theatre this Sunday.
"The audience should prepare for a two-set, three-hour show," Casal said. "An evening with The Chris Robinson Brotherhood. There's no opening act ... It's going to be very chill."
Authenticity is their game.
"We just want people to come along and dance and have a good time to some organic music."
THE CHRIS ROBINSON BROTHERHOOD. 8 p.m. Sun., Sept. 27. Mr. Small's Theatre. 400 Lincoln Ave., Millvale. $22. 412-821-4447 or www.mrsmalls.com