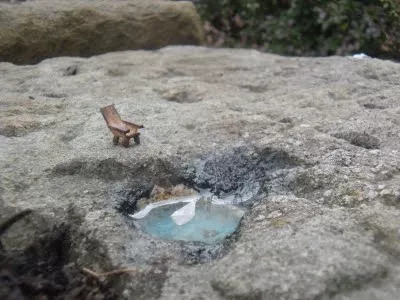 The "Box," as it turns out, is a set of white clapboard walls, a blue tarp serving as an awning, a small work table and a set of drawers. Last week, the Box sat on the corner of East Carson and 12th streets, and was occupied by artist Alberto Almarza.
Art Out of the Box is a Sprout Fund-supported project that gives a series of artists one week of studio time each outdoors, to work on a special project and engage the public in friendly chats.
Almarza has been in Pittsburgh for ten years. He arrrived from Chile meaning to return, until he found the woman of his dreams, and a town that supported his art. Now the Carnegie Mellon grad teaches at Pittsburgh's High School for the Creative and Performing Arts, and makes very small things.
Last week, Almarza was busy making itsy-bitsy paper boats, tiny dinettes and elven clotheslines. He made them all by hand and coated them with polyurethane so they'd last. Then he hid them around 12th and Carson: boats floating in puddles of epoxy, including one in a divot in one of the stones surrounding a planter in the intersection's pocket park; a table and chairs in a crevice of another such stone, complete with cave painting; tiny paintings of his tiny things drying on a tiny clothesline, on the southwest corner of the intersection. A chair and puddle-boat are pictured (photo courtesy of the artist's blog entry).
Most of the artworks would be invisible to passersby who weren't looking for them.
South Side pedestrians have welcomed Almarza with open arms. In the short time I sat with him last Friday, no fewer than four separate people came up to ask what it was all about. Almarza said a little girl brought each member of her family back to witness the installation each day that week. Above all, Almarza relishes telling people, "Nothing at all is for sale."
He says his mini-installations should last a year or two, if conditions are right. So even visitors who missed the creation process (which ended Sunday) can come down and contemplate the kind of dedication it takes to fold a 1-square-centimeter piece of paper into a boat.
Over the next three weeks, Art Out of the Box will hold additional outdoor residencies in Lawrenceville, Polish Hill and North Side.
From Tue., June 28, to Sun., July 3, from roughly 10 a.m.-6 p.m. daily, artist Will Schlough will have his studio in Lawrenceville, on the sidewalk in front of Wild Card boutique, 4209 Butler St.
Schlough, a 2007 Carnegie Mellon grad, is a sculptor who often repurposes everyday objects, for instance using old computer monitors and hard-drives painted green in lieu of the foliage on a fabricated tree.
For more information, and the artists' blogs, see www.artboxpittsburgh.com.