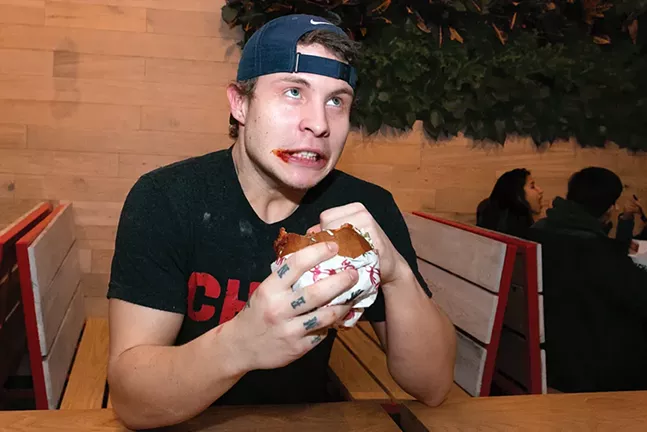 Pittsburgh is known for a lot of flavors: buttery, vinegary, meaty, etc. Spicy isn't really one of them. Truly spicy foods aren't in Pittsburgh's culinary lexicon of hearty Eastern European and Italian cuisines.
But with the rise in popularity of some outside culinary influences, Pittsburgh is heating up. Here are some of region's spiciest and most delicious dishes.
Chengdu Gourmet
5840 Forward Ave., Squirrel Hill. chengdupittsburgh.com
Chongqing Beef Hot Pot
Pittsburgh's best Chinese restaurant specializes in food from the Sichuan province. And that food is red hot, spiced with intense chilies and numbing peppercorns. The best way to enjoy it is with the Chongqing Beef Hot Pot, where slices of beef, vegetables, and noodles absorb the heat of an intensely spicy broth. Try slurping the soup for a next-world spicy experience.
CHiKN
3712 Forbes Ave., Oakland. hotchikn.com
Damn Hot Chicken Sandwich
A little taste of Nashville is coming to Oakland. The new chicken-sandwich joint is capitalizing on the food trend of hot chicken: fried or breaded poultry doused in a cayenne pepper sauce. CHiKN's Damn Hot Chicken Sandwich will make you sweat; its tangy coleslaw offers a little reprieve, but not much.

Las Velas

21 Market Square, Downtown. lasvelasmex.com
Diabla shrimp
Diabla is the Spanish word for she-devil and this dish delivers that special fiery-brimstone level spice. The cool freshness of the shrimp can't save you from a red sauce made from smoky adobo seasoning and scorching habanero peppers. As the menu notes, this dish is "not for the timid."

Quaker Steak and Lube
Multiple locations. thelube.com
Triple Atomic Wings
Probably the hottest thing in Pittsburgh comes from a Western Pennsylvania wing staple. The Triple Atomic Wings are so hot, a release order must be signed before consumption. The heat level is off the charts at 500,000 Scoville units. (Their next spiciest is 150,000 Scoville units.) Only the truly brave can try the Triple Atomic challenge.

Taste of India
4320 Penn Ave., Bloomfield. tasteofindiapittsburgh.com
Dal Makhani
Hot and spicy foods typically include some kind of meat, but vegetarians shouldn't worry. They can enjoy some fire-breathing food too. Dal Makhani is a creamed lentil dish that is aggressively spiced, and actually quite filling. It's slow cooked, so it has a depth of flavor beyond the heat. Mix in some yogurt or raita to cool the dal down.