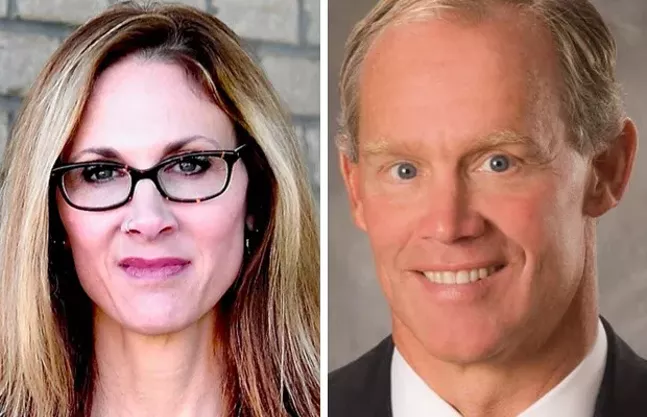 After failing to secure the endorsement of the Pennsylvania Republican Party this past weekend, Pennsylvania House Speaker
Mike Turzai
(R-Marshall) announced his withdrawal from the 2018 gubernatorial election. Turzai's campaign strategist, Jeff Coleman of Churchill Strategies, told TribLive on Feb. 10 that Turzai will now focus his energy on preserving the state House's Republican-held majority.
"The House Republicans have a majority to defend and a number of competitive races. And at the highest level, there is really only one person with statewide ability to fundraise and preserve that majority, which is critical as a backstop to the Wolf agenda," said Coleman in the
TribLive
article, referring to Turzai.
But Turzai's Democratic challenger for Pennsylvania's state House District 28 seat,
Emily Skopov
, of Marshall, says Turzai's failure to pick up the GOP endorsement indicates he shouldn't be the leader of the state House moving forward.
"Representative Mike Turzai's withdrawal from the race for governor comes as no surprise, as he could not instill confidence, even in members of his own party," said Skopov in a Feb. 10 statement sent to
Pittsburgh
City Paper
. "Republicans across Pennsylvania know that Turzai's failed speakership has harmed our Commonwealth and led to more gridlock, debt and credit downgrades."
Turzai, who was first elected Speaker in 2015, was a
key player
in the state's 2015 budget-deficit stalemate that caused public schools and the institutions that serve them to borrow $1 billion to cover their expenses. And in the fall of 2017, Turzai led an effort to pass a budget bill that had no tax increases, which was rejected by the Republican-controlled state Senate. Shortly after the state Senate's rejection, the bond rating company S&P Global Ratings
downgraded
Pennsylvania's bond rating.
"The downgrade largely reflects the commonwealth's chronic structural imbalance dating back nearly a decade, a history of late budget adoption, and our opinion that this pattern could continue," said S&P analyst Carol Spain in a September 2017 statement.
Since being elected to the state House in a 2001 special election, Turzai has been re-elected eight times in his North Hills district. He last won
re-election in 2016
by 30 points, but Skopov believes voters in the 28th District will reject Turzai come this November. She points out that Turzai has unsuccessfully run for elected office higher than his state House seat four times in the last two decades, and Skopov believes his quests for higher office have distracted Turzai from his duties as the 28th District's representative.
"Mike Turzai has been so busy running for other offices, he has failed to do his job and represent the needs of the 28th District," said Skopov in a statement. "The last thing the people of Pennsylvania want is a self-serving career politician who ran failed campaigns … showing further failures of his leadership. Like his bid for governor, the people of the 28th District will reject Turzai's failure to work for them and all Pennsylvanians in Harrisburg."
Turzai campaign strategist Coleman rejects Skopov's claim and defends Turzai's voting record.
"Speaker Turzai has a nearly 100 percent voting record during his House service, although he did miss a session date to attend his father's funeral," Coleman said in a statement emailed to
CP
. "His wife, Lidia, and their boys have always been the first priority, but his constituents have been a close second. I think it's safe to say he's never fallen prey to Harrisburg's 'Big Shot' syndrome."