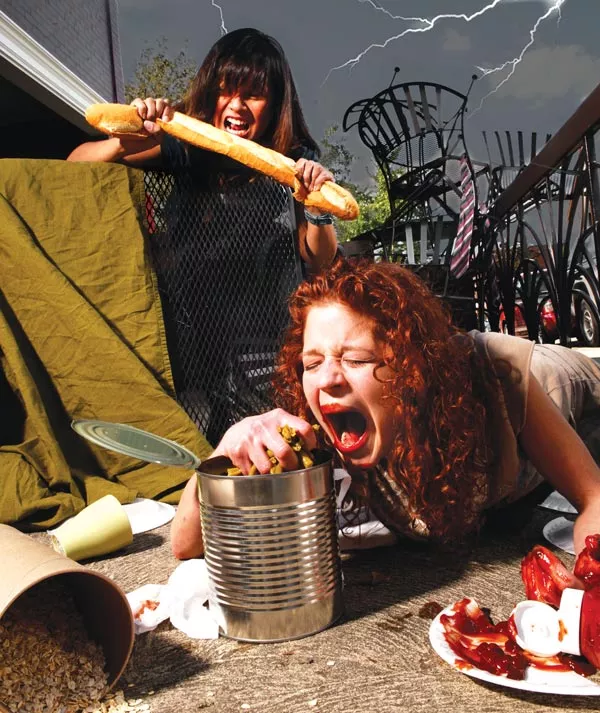 Best New Local Restaurant
Cure
5336 Butler St., Lawrenceville
412-252-2595 or www.curepittsburgh.com
Chef Justin Severino was already known for his charcuterie expertise, and his new neighborhood-based venture highlights his skill with cured meats, from lardo to duck speck. But Cure is much more: "local urban Mediterranean cuisine," sourced locally from humane growers, with the potently flavorful likes of smoked trout, squab and non-meat dishes complementing nose-to-tail cuts from the pig that's the restaurant's icon.
2nd: Union Pig & Chicken, East Liberty
3rd: Industry Public House, Lawrenceville
Best Place to Try Something New
Salt of the Earth 
5523 Penn Ave., Garfield 
412-441-7258 or www.saltpgh.com
Naturally, the menu offers familiar foodstuffs, but much will likely be new to you — from less-common ingredients (ground cherry, sofrito) and pairings (chicken livers and Granny Smith apples) to intriguing preparations, such as chawanmushi, a Japanese-style steamed egg custard. And the inventiveness doesn't stop at the food menu: New this season is a beet (and gin) cocktail.
2nd: Tamari, Lawrenceville and Cranberry
3rd: Ibiza Tapas & Wine Bar, South Side
Best Chef
Kevin Sousa, multiple locations
Sousa has put his distinctive culinary stamp on Pittsburgh. He started with the adventurous, modernist venue Salt of the Earth, in Garfield, in 2010. Then, down the road in East Liberty, he tackled roadside cuisine, tweaking BBQ (Union Pig & Chicken) and hot dogs (Station Street). Always, Sousa strives to make his cuisine locally sourced, surprising and worth a second visit.
2nd: Keith Fuller, Root 174 (Regent Square)
3rd: (tie): Rick Rivero, Cala Lily Café (Gibsonia) / Justin Severino, Cure (Lawrenceville)
Best Restaurant for a First Date
Dish Osteria and Bar
128 S. 17th St., South Side
412-390-2012 or www.dishosteria.com
Homemade pasta, a well-stocked wine list and expertly crafted cocktails combine with candlelight and intimate seating to make a memorable first impression. This Italian gem hidden off Carson Street, in the residential area of the South Side, specializes in the comfort foods of Sicily and the Mediterranean. Twelve years going, reservations are still recommended. 
2nd: Harris Grill, Shadyside
3rd: Eleven, Strip District 
Best Restaurant to Take Out-of-Towners
Primanti Bros.
Multiple locations, www.primantibros.com
Honestly, your out-of-town guests may not even give you a choice here. Despite this local chain's modest claim of being "almost famous," your friends have probably seen the fries-on-the-sandwich thing during the lead-in on Monday Night Football. Depriving them of this local classic would be like ignoring the inclines and driving up to the top of Mount Washington. 
2nd: Fat Heads, South Side
3rd: Monterey Bay Fish Grotto, Mount Washington and Monroeville
Best Breakfast 
Pamela's Diner
Multiple locations, www.pamelasdiner.com
A Pittsburgh institution that has developed a cult-like following, Pamela's features a hearty diner-food menu. Among the options are the specialty crepe-style pancakes, which were famously requested by President Barack Obama at the White House after a taste during a 2008 campaign stop. Pamela's accepts only cash, though, so come prepared. 
2nd: DeLuca's, Strip District
3rd (tie): Coca Cafe (Lawrenceville) / Dor-Stop Restaurant (Dormont)
Best Sunday Brunch
Grand Concourse
100 W. Station Square Drive, South Side
412-261-1717 or www.muer.com/grand-concourse
Set in a stunning, restored railroad station, the Grand Concourse brunch options include a made-to-order omelet bar and a super kid-friendly table with choices of chicken tenders, French- toast sticks, mac-and-cheese, PB&J sandwiches and a dirt sundae. Those who lean toward the lunch part of brunch also have a wide selection of dishes. 
2nd: Coca Café, Lawrenceville
3rd: Pamela's Diner, multiple locations
Best Business Lunch
The Capital Grille
301 Fifth Ave., Downtown
412-338-9100 or www.thecapitalgrille.com
In the heart of Downtown, the Capital Grille is an upscale steakhouse which will surely delight the meat lover. But it caters to all palates, with seafood and salad options, and the cheesecake is legendary. The restaurant's rich, wooden interior provides calming undertones perfect for a quiet date or business lunch.
2nd: Eleven, Strip District
3rd: The Carlton, Downtown
Best BYOB Dining
Piccolo Forno 
3801 Butler St., Lawrenceville 
412-622-0111 or www.piccolo-forno.com
No need to troll a list of unfamiliar wines — just bring your own. On busy nights, when the waits sometimes run long, diners often decamp to nearby bars to kill time. Thus, if you're seated with a pleasant buzz already on, you can spend the $5 corking fee on a dessert, such as house-made tiramisu, instead.
2nd: Pusadee's Garden, Lawrenceville
3rd: Arpino Trattoria, Scott Township
Best Outdoor Dining
Pusadee's Garden
5321 Butler St., Lawrenceville
412-781-8724 or www.pusadeesgarden.com
Pusadee's fronts a gray (if increasingly lively) stretch of Butler Street, and backs up on an anonymous slab of postindustrial Lawrenceville. But you'd scarcely know it while ensconced in the garden itself. Enjoy chef Busaba Tongdee's kee mao or massaman curry while you sit tucked between the restaurant's ivy-covered wall and a jungle-like grove accented with potted palms.
2nd: Double Wide Grill, South Side
3rd: Harris Grill, Shadyside
Best Romantic Restaurant
Eleven 
1150 Smallman St., Strip District
412-201-5656 or www.elevenck.com
Evoking a nightclub feel with the bar lighted from underneath and cozy booths around the main dining room tables, Eleven bills itself as a "contemporary kitchen." Known as one of the original pace-setters for the city's growing local food scene, Eleven is located near Downtown's cultural district, making it a perfect pairing for a night out. 
2nd: Dish Osteria and Bar, South Side
3rd (tie): LeMont (Mount Washington) / Monterey Bay Fish Grotto (Mount Washington and Monroeville)
Best Indian Restaurant
India Garden
328 Atwood St., Oakland
412-682-3000 or www.indiagarden.net
With 20 years on Oakland's restaurant row, India Garden knows its tandoori. But you can't go wrong with the rest of the menu, either, from samosas to chana masala. The lunch crowd likes the big buffet, and all week, dinners at India Garden are half-price from 5-6 p.m. Still hungry? Mondays through Saturdays, half-price repeats from 9-11 p.m.
2nd: People's Indian Restaurant, Garfield
3rd: Tamarind, multiple locations
Best Japanese Restaurant
Nakama Japanese Steakhouse and Sushi Bar
1611 E. Carson St., South Side
412-381-6000 or www.eatatnakama.com
Nakama has become a destination of its own on the South Side, attracting big crowds to its swank restaurant, which features smokeless hibachi tables. Table-side cooking from animated — and at times knife-wielding — chefs is the draw, but so are the extensive sushi and cocktail menus. 
2nd: Little Tokyo Japanese Restaurant, South Side and Mount Lebanon
3rd: Umi Japanese Restaurant, Shadyside
Best Thai Restaurant
Nicky's Thai Kitchen
856 Western Ave., North Side
412-321-8424 or www.nickysthaikitchen.com
Dinner at Nicky's Thai Kitchen feels a bit like stopping by for a meal at a friend's house — a friend who happens to make excellent Thai food. Located in a row house, the welcoming, intimate dining room seats fewer than 40 people. If it's warm enough, dine on the patio-turned-exotic-garden, which is filled with plants native to Thailand. 
2nd: Thai Gourmet, Bloomfield
3rd: Pusadee's Garden, Lawrenceville
Best Chinese Restaurant
Sesame Inn Chinese Restaurant
Multiple locations, www.sesameinn.net
With locations in Mount Lebanon, Station Square, North Hills and McMurray, Sesame Inn Chinese Restaurant offers an extensive menu of traditional Chinese cuisine as well as some Thai selections (and sushi at the North Hills location). The restaurant also features a robust cocktail list, Sunday brunch and take-out service. 
2nd: China Palace, multiple locations
3rd: Wai Wai Chinese Cuisine, Bloomfield
Best Italian Restaurant
Piccolo Forno
3801 Butler St., Lawrenceville 
412-622-0111 or www.piccolo-forno.com
In the summer, enjoy a wood-fired pizza at an outdoor table, while watching Lawrenceville street life. And nothing relieves winter's chill quite like the hearty homemade pastas at this Tuscan-inspired restaurant. Offerings include fettuccini with boar, cavatelli and sausage, and for vegatarians, spinach ravioli or tagliatelli and porcine mushrooms, all served in a lively and intimate space.
2nd: Arpino Trattoria, Scott Township
3rd: Del's Bar and Ristorante, Bloomfield
Best French Restaurant
Paris 66
6018 Penn Circle South, East Liberty
412-404-8166 or www.paris66bistro.com
A perennial favorite in the French category since it opened in 2009, Paris 66 is a classic, casual-but-nice French café that nails the staples of the cuisine: crêpes, moules, duck confit. It's part of the rapidly-changing East Liberty-Shadyside border area, and you might find yourself pronouncing "Target" with a soft "g" and silent "t" by the time you leave.
2nd: Brasserie 33, Shadyside
3rd: La Gourmandine, Lawrenceville
Best German Restaurant
Hofbräuhaus
2705 S. Water St., South Side
412-224-2328 or www.hofbrauhauspittsburgh.com
The secret to the success of Hofbräuhaus lies in the authentic German cuisine combined with the fantastic German-style beer brewed on site. Situated along the Mon near the SouthSide Works, Hofbräuhaus is modeled after the original, built in 1589 in Munich. And you'll taste a bit of Bavaria in everything from the wurst platter to the potato pancakes.
2nd: Max's Allegheny Tavern, North Side
3rd: Penn Brewery, Troy Hill
Best Middle-Eastern Restaurant
Aladdin's Eatery
Multiple locations, www.aladdinseatery.com
You could argue over whether Aladdin's has the most "authentic" Middle Eastern food in the city — the selection of cakes at the front counter is as non-traditional as it is enticing — but its large menu offers serious variety. Need to feed a motley crew of vegetarians, carnivores, picky eaters and new taste-seekers?  Aladdin's is liable to make most everyone happy.
2nd: Kassab's, South Side
3rd: Ali Baba, Oakland
Best Mexican/Latin American Restaurant
Mad Mex
Multiple locations, www.madmex.com
Though it's less traditional and more California-Mexican — think "Thai curry burrito" — Mad Mex is a perennial favorite thanks to its savory flavors, filling portions and excellent beer selection. It's also got funky décor and a generous "Happy Hora." And don't forget the house cocktails (margaritas are a specialty), the vegetarian options ... and a Mexican chocolate brownie for dessert.
2nd: Emiliano's, multiple locations
3rd (tie): Verde Mexican Kitchen & Cantina (Garfield) / Franklin Inn Mexican Restaurant (Franklin Park)
Best Contemporary American Restaurant
Salt of the Earth 
5523 Penn Ave., Garfield
412-441-7258 or www.saltpgh.com
For some diners, perhaps the most disarming aspect of Salt isn't the modernist techniques or the odd ingredients, but the minimal menu that eschews the trend toward over-explaining. "Salmon [with] mustard, egg, squash, potato" or "Tofu [with] cauliflower, pasta, celery root, apple, chestnut." Ingredients may be substantial, re-imagined or a subtle grace note, but it's always a delight finding out.
2nd: Eleven, Strip District
3rd: Spoon, East Liberty
Best Vegan or Vegetarian Restaurant
Quiet Storm
5430 Penn Ave., Friendship
412-661-9355, or www.qspgh.com
Meatless dining has come far in Pittsburgh, thanks largely to this airy, casual neighborhood spot. Daily, Quiet Storm features its signature Graham Street tofu sandwich (flavored with pickled onions) and no-meat twists on favorites like gyros, alongside specialties like mac-and-cheese and the Tahini Bowl. But the Storm is perhaps most renowned for its Sunday brunch, including BYOB cocktail mixers.
2nd: The Zenith Vegetarian Cafe, South Side
3rd: Double Wide Grill, South Side
Best Seafood
 Monterey Bay Fish Grotto
1411 Grandview Ave., Mount Washington (412-481-4414)
146 Mall Circle Drive, Monroeville (412-374-8530)
www.montereybayfishgrotto.com
Fresh fish is flown in daily for the two locations, and the Mount Washington spot is known for its stunning views of the city along with its fantastic seafood offerings. You can be as safe or adventurous as you want with your dining experience. Monterey brings it all home — from fantastic jumbo-lump crab cakes to multiple preparations of seafood from all over the world.
2nd: Mitchell's Fish Market, The Waterfront and Mount Lebanon
3rd: Penn Avenue Fish Company, Downtown and Strip District
Best Steakhouse
Hyde Park Prime Steakhouse
247 North Shore Drive, North Side
412-222-4014 or www.hydeparkrestaurants.com 
Nestled between PNC Park and Heinz Field, Hyde Park Prime Steakhouse provides an upscale but modern respite from the nearby parking-lot revelry. Offerings include steak, chops and seafood options, each with a variety of preparations. Going for happy hour? Grab one of the tasty appetizers and sidle up to the roaring fireplace. 
2nd: Morton's The Steakhouse, Downtown
3rd: The Capital Grille, Downtown
Best Sushi
Tamari
3519 Butler St., Lawrenceville (412-325-3435)
701 Warrendale Village Drive, Cranberry (724-933-3155)
www.tamaripgh.com
Sushi-lovers have always been willing to try something unusual. So it's no surprise that the sushi enthusiasts taking part in our readers' poll have rallied behind the path-breaking ethos at Tamari. The menu is inspired by a fusion of Asian and Latin-American cuisines; the restaurant's very name, according to the owners, means "to do everything with passion." 
2nd: Little Tokyo Japanese Restaurant, South Side and Mount Lebanon
3rd: Nakama Japanese Steakhouse and Sushi Bar, South Side
Best Pizza
Mineo's Pizza House
2128 Murray Ave., Squirrel Hill (412-521-9864)
713A Washington Road, Mount Lebanon. (412-344-9467)
www.mineospizza.com
Mineo's pizza is undoubtedly very good, but what its selection this year also says is: Pittsburghers like cheese. Lots of thick, gooey cheese. If you get a pepperoni pie here, they'll put the pepperoni under the cheese — because at Mineo's, cheese is boss.
2nd: Pizza Sola, multiple locations
3rd: Fiori's Pizzaria, Beechview
Best Wings
Quaker Steak & Lube
Multiple locations, www.quakersteakandlube.com
This filling-station-themed chain, founded in Sharon, Pa., has a full menu and bar. But it's famed for its wings and two dozen sauces, from mild ranch to Parmesan Pepper, Dusted Mango Habanero and varieties so caliente they make you sign a release. "Supercharged" is merely "Crazily Hot," while Triple Atomic promises "Guts, Glory, Pain!" If heat's your sport, they've got you covered.
2nd: Fat Heads, South Side
3rd: Sidelines Bar & Grill, Millvale and Sewickley
Best Burger
Burgatory
932 Freeport Road, Waterworks Mall (412-781-1456)
300 McHolme Drive, Robinson (412-809-9400)
www.burgatorybar.com
It was inevitable that such roadside favorites as burgers and shakes got fancified. But with patties made from a blend of sirloin, chuck, brisket and short rib; exotic toppings like aged Gruyere cheese, avocado wasabi and poblano peppers; and shakes approximating smores and PB&J sandwiches, who's complaining? Burgatory also has an outpost at the Consol Energy Center.
2nd: BRGR, East Liberty and Cranberry
3rd: Tessaro's, Bloomfield
Best Pierogies
Pierogies Plus
342 Island Ave., McKees Rocks
412-331-2224 or www.pierogiesplus.com
"If you want more authentic pierogies," claims Pierogies Plus, "you'll have to fly to Warsaw or Krakow." The emporium sells pierogies from traditional potato-and-cheese to specialties like sauerkraut-and-mushrooms, made daily by a mostly Eastern European-born staff working under Polish-born founder Helen Mannarino. But even those far from McKees Rocks needn't fly to Poland: Pierogies Plus ships its products nationally.
2nd: Bloomfield Bridge Tavern, Bloomfield
3rd: Church Brew Works, Lawrenceville
Best Desserts
Gullifty's
1922 Murray Ave., Squirrel Hill
412-521-8222 or www.gulliftys.com 
With two dozen made-from-scratch in-house dessert options, the 30-year-old Gullifty's is a neighbor we're glad to know. How, after all, can you go wrong with the "ten-pound apple pie," the "Oreo cheesecake," or the banana cream pie? Can't dine in? Orders are also taken for full cakes and pies.
2nd: Dozen Bake Shop, Lawrenceville and Oakland
3rd: Oakmont Bakery, Oakmont
Best Frozen Treats
Razzy Fresh
Multiple locations, www.razzyfresh.com
Why leave your crucial fro-yo customization up to someone else? Razzy Fresh's self-serve, pay-by-the-ounce setup puts you in charge. Fill a cup with one, or several of their rotating flavors (want to mix rich Red Velvet Cake yogurt with tart Taro? Hey, why not?) Then pile on the cheesecake bites, and fruity pebbles (or whatever else you want), or go topping free. 
2nd (tie): Oh Yeah! Ice Cream & Coffee (Shadyside) / Dave & Andy's Homemade Ice Cream (Oakland)
Best Bakery
Prantl's Bakery
5525 Walnut St., Shadyside (412-621-2092)
438 Market St., Downtown (412-471-6861)
www.prantlsbakery.com
Burnt-almond torte. Burnt-almond torte. Burnt-almond torte. Sure, this four-decade-old Pittsburgh institution — a perennial "best of" favorite — has a hundred other baked treats too, each with its own admirers. But if you're going to Paris, you aren't going to skip the Eiffel Tower, right? So ... burnt-almond torte. Burnt-almond torte. Burnt-almond torte.
2nd: Oakmont Bakery, Oakmont
3rd: La Gourmandine, Lawrenceville
Best Bread 
Mancini's Bakery
Multiple locations, www.mancinisbakery.com
Opened in 1926 by Italian immigrant James Mancini, the bakery has remained in the hands of the same family for 70 years. While its fresh bread can be found all over town, the original bakery in McKees Rocks stays open all day and all night — and is worth the drive for the rolls to complete late-night dinner plans. 
2nd: Breadworks, North Side
3rd: Allegro Hearth Bakery, Squirrel Hill
Best Late-Night Menu
(Tie) Eat'n Park / Mad Mex
Multiple locations, www.eatnpark.com and www.madmex.com
The two local chains both satisfy late-night hunger cravings. Eat'n Park, with locations all over the city, has at least one 24/7 location within a 5-mile radius of most city neighborhoods. And with the kitchen open on weekdays until 11 p.m. and weekends until midnight, Mad Mex is also a top pick from those whose nights are too busy to allow for eating.  
2nd: Primanti Bros., multiple locations
Best cheap eats
(Tie) Eat'n Park / Primanti Bros.
Multiple locations, www.eatnpark.com and www.primantibros.com
Two iconic Pittsburgh brands share this year's honor for having the best cheap eats. At Primanti Bros., all but two of their famous, gigantic slaw- and French-fry-laden sandwiches are less than $7. At Eat'n Park, the food is similarly reasonably priced — and there are gluten-free offerings at no additional cost. 
2nd: D's Six Pax & Dogz, Regent Square
Best Coffeehouse
Crazy Mocha
Multiple locations, www.crazymocha.com
This local chain has grown by leaps and bounds since it opened its first shop in Shadyside 12 years ago. Now with about 30 locations across the region, the shop with a goat drinking a cup of joe as its mascot is one of the biggest players in the local coffee scene. Unlimited free wi-fi is also an attraction.
2nd: Espresso a Mano, Lawrenceville
3rd:  Beehive, South Side
Best Local Beer
East End Brewing
6923 Susquehanna St., Homewood
412-537-BEER or www.eastendbrewing.com
A touchstone for those who "drink local." (Would that make them "localholics"?) The Big Hop IPA is East End's flagship, but other seasonal and year-round beers also have devoted followers (literally — the annual batch of Pedal Pale Ale is accompanied by a "keg ride" for cyclists). Beer can be bought in growlers at the brewery or, Friday-Sunday, at the Strip District's Pittsburgh Public Market.
2nd: Penn Brewery, North Side
3rd: Iron City, Latrobe
Best beer selection in a restaurant
Sharp Edge, multiple locations
www.sharpedgebeer.com
Here you'll find beers with names like Old Peculiar and Homunculus, beers from Sri Lanka, Russia and — most importantly — Belgium. That diversity, and a longstanding emphasis on Belgian beers, has helped the Sharp Edge grow from a quiet neighborhood joint to a local empire, with five locations in the city and suburbs. 
2nd: D's Six Pax & Dogz, Regent Square
3rd: Fat Heads, South Side
Best Wine Selection in a Restaurant
Sonoma Grille
947 Penn Ave., Downtown
412-697-1336 or www.thesonomagrille.com
Sonoma Grille was built specifically around its wine bar, so it's no surprise its wine list features hundreds of choices, from a $6 glass of sauvignon blanc to a $2,900 bottle of cabernet. For the indecisive, the Grille offers wine flights, so you can sample a few at a time. 
2nd: Eleven, Strip District
3rd: Toast! Kitchen & Wine Bar, Bloomfield