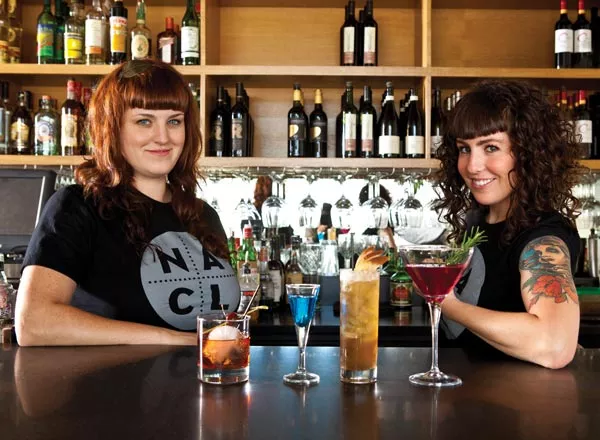 Salt of the Earth
5523 Penn Ave
Garfield
412-441-7528
or
saltpgh.com
Bartender Jeremy Bustamante is excited about the new cocktail he's placing on Salt of the Earth's menu. It combines gin, fresh beet juice, fresh lemon juice, a couple drops of absinthe and rosemary simple syrup, made from herbs harvested in his own garden; when mixed, the cocktail is a breathtaking shade of fuchsia.
The drink represents the ethos of Salt's cocktail list: fresh components; house-made mix-ins; locally sourced ingredients; beautiful presentation; and, frequently, an unlikely ingredient that customers don't yet know they love in a cocktail.
Bustamante has been behind the bar at Salt for a year, joining Maggie Meskey and Erika Joyner, who have been crafting cocktails there since Kevin Sousa opened the Garfield restaurant two years ago. (Longtime Salt bartender Summer Voelker recently moved over to Sousa's newest venture, the Harvard and Highland cocktail bar, in East Liberty.)
The three work collaboratively on new cocktails, bouncing ideas off the restaurant's chefs and staffers. "By the time it gets to the customer, it's perfect," explains Joyner.
Influences for new drinks are varied. Naturally, there's the season: This fall, for example, has inspired drinks made with squash and apple butter. Food matters too, and not just for pairing drinks to Salt's menu: Joyner says, "If I have a meal, I think, this could be a drink." Another time, a surplus of fresh chamomile resulted in an infused vodka.
The venue itself is a fundamental part of the creative process. "This is a really rare opportunity for a bartender to have this much influence over the cocktail list, and to have complete creative control," Joyner says.
The learning never stops. Joyner did a week's worth of research on the Kentucky Bourbon Trail this summer, and enters cocktail competitions: "You see the best bartenders from each city in America, executing the drink that won them a slot — and I've learned so much from watching that. There's only so much you can get from a book."
Technique matters as much as ingredients when crafting cocktails. Drinks are stirred or shaken, or strained twice. (It's all about exposure to the ice and proper dilution.)
Customer response to the hand-crafted drinks has been gratifying, even when odd ingredients are involved. Bustamante cites one winter vodka-based cocktail that featured "red onion shrubs," and "was very popular with people who got past [the oddness factor]." But he cautions that Salt's drinks aren't created simply for the novelty. "We're not just putting things together for the sake of doing it. We want to create something delicious."
When asked for her in-house favorites, Joyner cites a rye-mint "snow cone" and her own debut, "a winter cocktail called Krampus, after the evil Santa Claus, with blood orange, vodka, lemon, molasses, habañero and cocoa powder on top."
Molasses ... and habañero?!
"We're more than happy to walk through every single component of any listed cocktail," Joyner reassures. "There's nothing to be scared of."