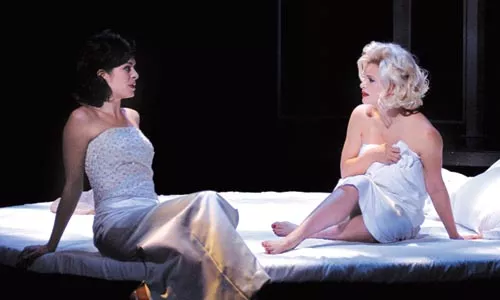 Grace Kelly was a slut! This point is made repeatedly, and to great comic effect, in Mark Hampton and Michael Sharp's The Secret Letters of Jackie and Marilyn, adapted from Wendy Leigh's novel and receiving its world premiere at the Pittsburgh Public Theater.
And how come, you're wondering, we are listening to cracks about the sexual proclivities of Her Serene Highness, as she was known to the world? Grace had crossed paths with, and bedded the men of, Jackie Kennedy and Marilyn Monroe. And since this play is about the "secret" correspondence between those two women, we get their funny, bitchy take on lots of celebrities.
We open just as Marilyn's stepped into the mantle of superstardom and Jackie's a single newspaper reporter. A flattering mention leads the former to send the latter a thank-you note which begins a correspondence lasting through the end of Marilyn's life.
The play is two actresses speaking the letters out loud; only rarely do they interact. There's also a woman named Patty, Marilyn's hairdresser and friend, functioning as narrator, with her own funny, bitchy comments bracketing the letters and moving us through the play's timeline.
Hampton and Sharp have fun playing around with our received perception of the two women, but it must be said that for all of their self-revelation, each remains oddly elusive throughout, perhaps because a play with this schematic is notoriously difficult to pull off. Put two people on stage reading celebrity-infested letters and it's only natural that, after a while, you're going to feel like someone's reading People magazine to you.
But if such a thing is to be, I don't think you'd find two better women to do it than Gretchen Egolf and Heather Tom. On Michael McGarty's drop-dead set, and wrapped in David C. Woolard's historically iconic costumes, Tom's Marilyn is a heart-breaking blend of damaged child and reckless woman ... plus, as a bonus, she's got Monroe's voice down cold. Egolf plays Jackie with a perfect patrician beauty and a frosty manner which she lets drop to reveal a frighteningly intelligent and almost numbed victim underneath.
The legendary Carole Shelley's in town to play Patty, which she does with Thelma Ritter glee. But there's a problem: Shelley carries the script around with her and reads her lines to the audience. The Public claims this is a concept, but I have my doubts. The production is the first ever, so naturally the changes are flying fast and furious. Patty's lines are all monologues, often with no linear lead-in, and it's understandable that, this early in the game, Shelley needs a map to navigate. But if, as the Public says, it is on purpose, then I most strenuously lobby against it -- there's far too much reading going on in this play already.
The Secret Letters of Jackie and Marilyn continues through Dec. 10. Pittsburgh Public Theater, 621 Penn Ave., Downtown. 412-316-1600