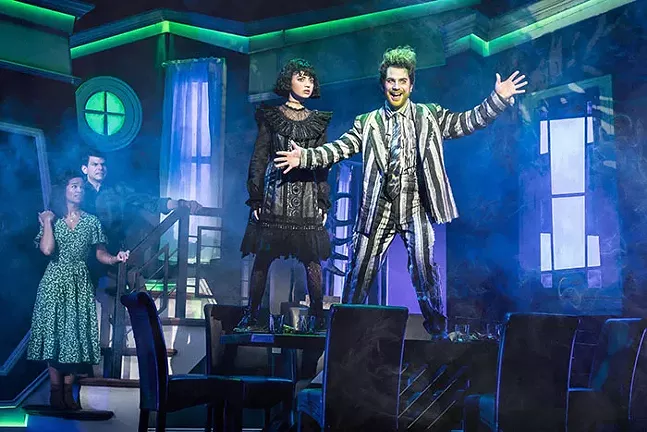 Now haunting the Benedum Center in Downtown Pittsburgh, Beetlejuice brings high production values and spectacularly saturated design to the musical adaptation of Tim Burton's 1988 movie.
The plot of the musical, reconfigured by writers Scott Brown and Anthony King, is not especially faithful to the film, which focuses on the Matilands, a deceased married couple struggling to adjust to the afterlife and chase a new family out of the house they shared in life. (The titular subject addresses this in an introductory song, noting the musical's "bold departure from the original source material.")

The musical instead focuses on Lydia Deetz (Isabella Esler), a goth teen who moves into the Maitlands' home, and Beetlejuice (Justin Collette), a chaotic spirit tasked with scaring her and her parents.
The show opens with the funeral of Lydia's mother and places the high-schooler and Beetlejuice in parallel conflicts. Lydia's grief for her mother makes her metaphorically invisible to other people who wish to ignore her sadness. Beetlejuice is literally invisible to the living. Both are intensely lonely and yearn to be seen by others.

As a result, Lydia, who was played in the film by Winona Ryder, gets a complete emotional arc as she recovers from her mother's death.

Beetlejuice targets Adam and Barbara Maitland, a couple who died in the house from an implausibly large electric shock delivered by faulty wiring. Since the living cannot see Beetlejuice, he needs the Maitlands to get a living person to say his name three times, which will make him visible to, and able to interact with the rest of the world.

Britney Coleman and Will Burton are pitch-perfect as the liberal, milquetoast Maitlands, who struggle to overcome their fear of failure during both their short lives and eternal afterlives.
The Maitlands want to regain sovereignty over their house, which was sold to Charles Deetz (Jesse Sharp), a real estate investor who plans to remodel it into the first home in a forthcoming gated community. Adam and Barbara attempt, unsuccessfully, to scare Charles, Lydia, and Charles' girlfriend, Delia (Kate Marilley), away from the house before reluctantly enlisting Beetlejuice to teach them how to haunt.
Lydia, hurt by her father's refusal to acknowledge her grief and by his moving on from her mother so quickly, first becomes an ally to the Maitlands and then Beetlejuice, who discovers Lydia's ability to perceive him. Pushed to desperation when her father isn't scared away by the Maitlands' iconic Calypso-themed possession, Lydia summons Beetlejuice to the realm of the living and chaos ensues.
Esler, making her professional debut, has just recently graduated high school, and soars through a very demanding score with apparent effortlessness. Collette's goofy, obnoxious Beetlejuice provides most, but not all, of the comic relief in this show that purports to be about death but is more accurately described as being about the challenges of navigating life's emotions.

Marilley offers a refreshing update to the film's Delia, a vain, yet talentless artist played by Catherine O'Hara. The musical instead portrays her as a superficial New Age life coach.

The set design by David Korins walks the line between realism and cartoon throughout three different iterations of the house, as its successive owners mold it to reflect their personalities. The set is so sprawling it requires the use of a drop curtain to move between the attic where the Maitlands dwell and the first floor where most of the action takes place, a potentially clunky transition smoothed by Peter Nigrini's dark-and-stormy-night projections and composer Eddie Perfect's musical interludes.
The light design by Kenneth Posner manages to deliver surprising nuance with clashing colors, such as Beetlejuice's signature purple and green, and includes substantial use of blinders flashing intensely and, sometimes, unexpectedly directly at the audience.
Although the show's Pittsburgh run is mostly sold-out, individuals seeking tickets should contact the Cultural Trust's guest services number at 412-456-4800 to inquire about availability.
---
Beetlejuice. Continues through Sun., Feb. 26.
Benedum Center. Seven
th St. and Penn Ave., Downtown. Check for ticket availability.
trustarts.org