The holidays are extra painful for Jacqueline Graham, one of more than 200 people protesting the National Rifle Association convention being held in Pittsburgh this weekend.
Graham's daughter, Shalane, was killed two days after Thanksgiving in 2009. And her little sister, Michelle, was killed on Easter Sunday in 1985. Both died of gunshot wounds from the bullets of guns purchased illegally on the streets. Though the shooters have been convicted in those deaths, Graham wants to put a stop to those who get guns illegally on the street and use them to commit crimes.
"The African American community is loosing a whole generation," Graham, of the Hill District, says. At a protest Saturday afternoon, she held the hand of Khlaya, her 4-year-old granddaughter -- Shalane's daughter, whom she is now raising. "You've seen the numbers. It's not just young men dying anymore. Young women are dying.
"The bullets don't discriminate."
Graham was part of a Pittsburgh Interfaith Impact Network rally that began in the Hill District. Before marching to the David L. Lawrence Convention Center, Downtown, where members of the NRA had gathered, protesters stood at Freedom Square to hear speakers discuss the need to stop gun violence and tighten gun restrictions.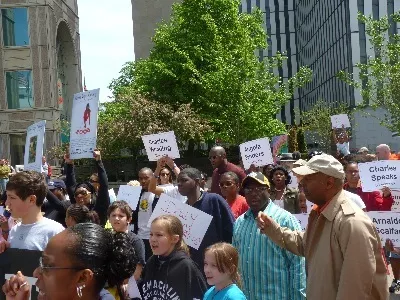 "It's not about the Second Amendment," Pittsburgh Police Chief Nate Harper told demonstrators. "It's about common sense ... We're the best country in the world, but we don't act like it when it comes to guns."
"Stop the illegal guns, and get our background checks fixed," demanded Lori Haas, whose daughter survived two shots to the head during the 2007 Virginia Tech University shooting that killed 32 students and faculty. "The gun violence has got to end."
As protesters began their march to the convention center, the bell atop St. Benedict the Moore Church, across from Freedom Corner, started ringing -- the first of 600 tolls meant to signify the 600 people killed by guns in Pennsylvania in an average year.
Demonstrators, many of whom held signs displaying the names of those who have died by gun violence, marched down Centre Avenue, past the NRA flags at the Consol Energy Center and through Downtown. A large white truck held up the rear, with a sign addressed to the NRA: "An Invitation to the NRA's Wayne LaPierre: Let's Talk."
Organized by the Pittsburgh Interfaith Impact Network and CeaseFirePA, the police-escorted march went fairly smoothly until it approached the convention center. There to greet them was a NRA supporter, wearing a holstered gun, holding a sign that read "gun control = racism."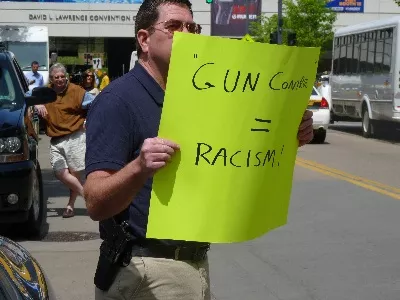 As protesters began reading the names of victims of gun violence, NRA attendees began to fill the sidewalks -- some looking on, some heckling. "Go home, ya bums!" one man yelled toward the demonstrators. "Guns don't kill people, people do," said another.
One group of NRA members, had their own coordinated response. "On three, a group finger!" one man yelled from the sidewalk in front of the convention center. "One, two, three!"
In unison, five men raised their middle finger toward the protesters.
Not all NRA members were so confrontational.
"Everyone's got their own views," said Shawn Swafford, a 19-year-old Army serviceman from Texas. "I don't see an issue with" the protest."
Nearby, the Damianos, a self-described "NRA family" from Buena Vista, New Jersey, watched from across the street.
"[The protesters] are all talking about protecting children. I love my son and I want him to learn to protect himself and learn how to use guns properly," said Shelly Damiano as her son, Jim Boy, stood by her side. "The NRA is all about education. We are all about education."
"My parents taught me how to use guns safely, not the NRA," Jim Boy added.
Damiano believes that tragic incidents like the shooting in Tuscon, Ariz., or Virginia Tech, are inevitable, with or without more regulations or background checks. "You'll always be able to get guns. They just don't get them legally. But organized crime will always be there as long as there is a demand."
Convention attendees like Rick Our, from Olean, N.Y., believes anger at the NRA is misdirected.
"There's so much neglect out there of the youth. There needs to be a focus on education in all aspects," Our said. "Guns are out there. But the trouble is with the drugs and stuff like that in our society."