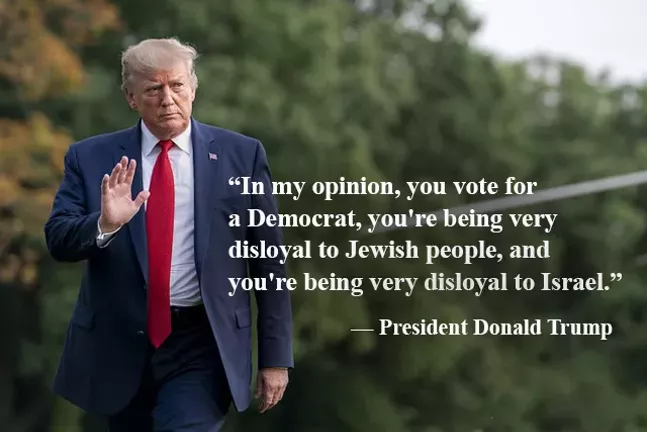 Pittsburgh-area U.S. Rep.
Guy Reschenthaler
(R-Peters) was one of the first vocal critics of comments made by U.S. Rep. Ilhan Omar (D-Minneapolis) earlier this year, claiming she was being "anti-Semitic," and spreading hurtful dual-loyalty tropes about Americans Jews.
But yesterday, after President Donald Trump explicitly claimed the majority of American Jews are being "disloyal" in voting for Democrats, the freshman Republican representative has gone silent.
This winter, controversy boiled over when Omar made comments pertaining to Israel, and she was condemned mostly by Republicans, but some Democrats as well.
In February, Omar tweeted, "It's all about the Benjamins" when responding to a tweet about the influence of AIPAC, a pro-Israeli lobbying group. Omar's tweet was referencing a rap song, but some Jewish groups said the tweet was insensitive and played into offensive stereotypes.
Omar apologized
for her comments.
Reschenthaler
called Omar's remarks "anti-Semitic" and encouraged his House colleagues to officially denounce the Minnesota representative by voting for a resolution on the House floor.
Rep. Omar's anti-Semitic remarks are dangerous and disgraceful. Democrat leadership needs to denounce it by bringing up @RepLeeZeldin's resolution condemning anti-Semitism immediately. Their refusal to do so normalizes this kind of hatred.

— Rep. Guy Reschenthaler (@GReschenthaler) February 11, 2019
In March, Omar said at a town hall, "I want to talk about the political influence in this country that says it is okay to push for allegiance to a foreign country," referencing Israel. Republicans, like Reschenthaler, also criticized these remarks, saying they played on harmful stereotypes that American Jews have dual-loyalties.
I am deeply concerned by Rep. Omar's continued anti-Semitic remarks and use of age-old tropes against the Jewish people. Democrat leadership needs to take action and remove her from the House Foreign Affairs Committee immediately.https://t.co/32rEheZHXI

— Rep. Guy Reschenthaler (@GReschenthaler) March 4, 2019
Yesterday, President Donald Trump explicitly said that American Jews who vote for Democrats are being "very disloyal to Israel." This came a day after Trump told reporters that "any Jewish people that vote for a Democrat — I think it shows either a total lack of knowledge or great disloyalty."
Trump was talking about how Omar and U.S. Rep. Rashida Tlaib (D-Michigan) were barred from visiting Israel in an official capacity.
Trump was then publicly condemned by several Jewish organizations and Democratic lawmakers. Even some conservative media personalities, such as
The New York Times'
Bari Weiss and
Washington Examiner'
s executive editor Philip Klein, spoke out against Trump's comments.
"If you vote for a Democrat you're being very disloyal to Jewish people and you're being very disloyal to Israel. And only weak people would say anything other than that." — Donald Trump pic.twitter.com/h8KNCJPXzq

— jordan (@JordanUhl) August 21, 2019
But Reschenthaler has not made a public statement on Trump's comments.
City Paper
reached out of Reschenthaler's office for comment, but the request was not returned.
Other Pennsylvania GOP representatives, like Scott Perry of York and Lloyd Smucker of Lancaster, were also critical of Omar's comments this winter, but have remained silent on Trump's recent comments.
Jewish Federation of Greater Pittsburgh director Josh Sayles says his group is greatly concerned with the growing number of elected officials willing to weaponize anti-Semitism for political gain. He reminds people of the consequences of accepting or failing to condemn anti-Semitic remarks, pointing to the anti-Semitism of alleged Tree of Life shooter
Robert Bowers
.
"The recent actions of Rep. Omar, Rep. Tlaib and President Trump are prime examples of such divisiveness," said Sayles. "In Pittsburgh, we are all too familiar with the worst-case scenario when hateful people act upon anti-Semitic rhetoric. Unfortunately, we anticipate that the frequency of such behavior will increase as we approach the 2020 election."