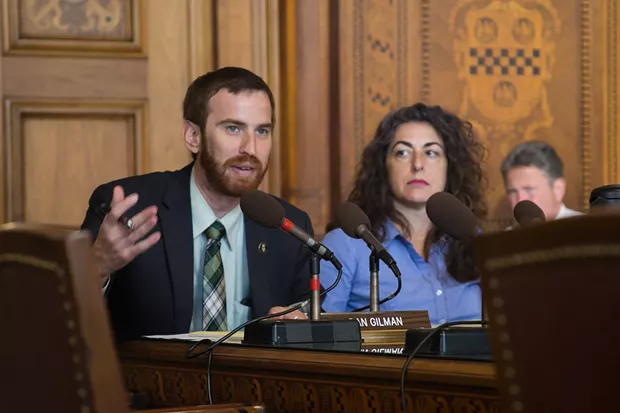 Pittsburgh Mayor Bill Peduto and Pittsburgh City Councilor Daniel Gilman have been longtime allies. In 2013, Gilman filled the mayor's seat on council after Peduto was elected mayor. And before that, Gilman served as Peduto's right-hand man as chief of staff for the nine years Peduto was on on council.
Now, Gilman will once again be taking on that role. Today, the mayor's office announced Gilman would be taking over as the mayor's chief of staff on Jan. 3. Gilman is filling the vacancy left by
Kevin Acklin
who announced his resignation earlier this month.
"Dan is the perfect person to continue my and Kevin's work the last four years to make Pittsburgh a city for all. In fact, he's been integral to that work all along," Peduto said in a press release. "I am grateful to Dan and his family for taking this next step in his public service to the city."
Due to Gilman's new appointment, a special election will need to be held to fill the vacancy in the District 8 seat, representing Oakland, Point Breeze, Shadyside and Squirrel Hill. Gilman was just re-elected to a second term on council on Nov. 7.
"I have a passion to continue to serve the residents of the City of Pittsburgh," said Gilman in a release. "I am thankful to Mayor Peduto for this opportunity to serve the whole city and help deliver upon our City for All agenda.
"This wasn't an easy decision, especially given the confidence District 8 residents have given me the last two elections. I pledge to take all the lessons they have taught me over the years and apply that experience to making the entire city a better place for all."