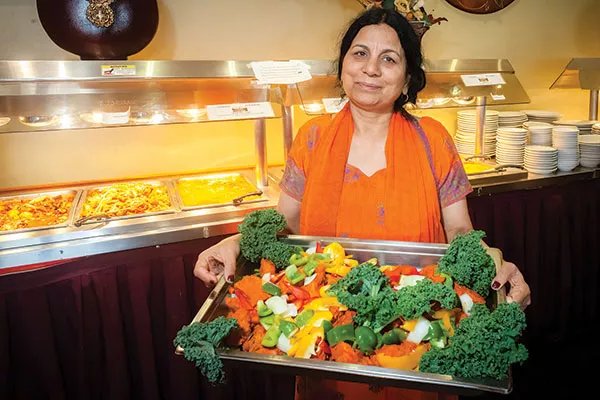 Taj Mahal
7795 McKnight Road, North Hills
412-364-1760 or www.thetajmahalinc.com
There's no mistaking this single-story restaurant on retail-heavy McKnight Road for the actual Taj Mahal, India's most famous and spectacular structure. But if you're searching for the delights of Indian cuisine, you have come to the right spot.
Taj Mahal boasts an impressively long menu, one that features Indian dishes from north to south, and some points in between. (There is a small selection of Indo-Chinese specialties, for instance.) The menu also takes care to explain various types of Indian cooking (curry, tandoor, dum), as well as the origins and use of critical ingredients (spices, ghee, yogurt). Items are made from scratch, and the cheese and yogurt are made fresh daily.
Perhaps the easiest way to navigate the choices is to partake of the buffet. The flat-price, all-you-can-eat option is available daily for lunch, with dinner buffets on Monday, Thursday and Saturday.
Settle into the unassuming space, decorated in warm spice colors (gold, brown, deep red), and plate up.
On offer at a recent Sunday lunch buffet were more than a dozen entrée-type dishes (goat curry, chicken tikka masala, chicken briyani), as well as another full complement of hearty sides (paneer with peas, dal, lentil soup). There was a selection of raitas and chutneys, a build-your-own-side-salad set-up, and several types of bread (crispy, salty, spongy). For dessert, there were two puddings (mango and rice, great together), sooji halwa (a sweetened semolina porridge) and excellent, ooey-gooey honey balls.
All the items are labeled, though often with the Indian name alone, which preserves a bit of mystery. (One dish, arbi, was helpfully annotated as being "potato-like.") But the buffet is the perfect way to take a chance with a small portion: New-to-me chilli iddy turned out to be battered and deep-fried potato slices that could have easily topped a menu of Highly Addictive Bar Snacks. Thus educated, I would happily order these in the future.
Some buffets aim for the low end of spiciness, but the dishes here were well spiced, with several being satisfyingly hot. Another new-to-me item was "lemon rice," which was brightly flavored with citrus, but also contained nuts and hot peppers; I got a deliciously fiery mouthful.
Understandably, Taj Mahal's buffet is a popular destination for families, with everyone from grandma to the baby sharing food at a big table. The hardest part — besides getting to the restaurant from the northbound lanes of McKnight Road — might be pushing the plate away. Despite my best efforts to try everything, I still left a few dishes untasted, while I shamefully kept returning to load up on more potato fritters dipped in tamarind chutney.
But a buffet, especially one this ample, is an invitation to eat what you want, and at your pace. Take your appetite, and take your time.