Natural gas is a behemoth in Pennsylvania in terms of production, consumption, and electricity generation. According to the U.S. Energy Information Administration,
natural gas is the top form of energy consumption
in the state, and about 40 percent of electricity in Pennsylvania is generated from natural gas, just behind nuclear energy. Nationwide, natural gas is the single largest share of electricity production.
The commonwealth produces so much natural gas that it exports large amounts of it, and in the last several years, the natural-gas industry in Pennsylvania has easily
overtaken the coal industry
.
But a new study indicates natural gas may not be on top forever and that nationwide, renewable energy will overtake natural-gas power plants within 16 years.
According to the
Rocky Mountain Institute
(RMI), it will be more expensive to run 90 percent of natural-gas fired power plants compared to the costs to build wind and solar farms with storage systems by 2035. The institute analyzed the construction costs, fuel prices, and operation costs of 68 proposed natural-gas power plants across the U.S.
"We find that the natural gas bridge is likely already behind us," reads the RMI report, "and that continued investment in announced gas projects risks creating tens of billions of dollars in stranded costs by the mid-2030s, when new gas plants and pipelines will rapidly become uneconomic as clean energy costs continue to fall."
This report comes at a time when the jobs in the
solar industry
are on the rise in Pennsylvania, even though natural-gas jobs are also rising and make up a much larger percentage of the energy job sector.
A large number of those proposed gas-fired generation projects are planned for Pennsylvania and the nearby Ohio River Valley. A cracker plant that will refine natural gas into plastics is currently under construction in Beaver County. The RMI report says rapidly falling prices and improved technologies of renewables are leading to an increasing cost advantage against natural-gas power plants.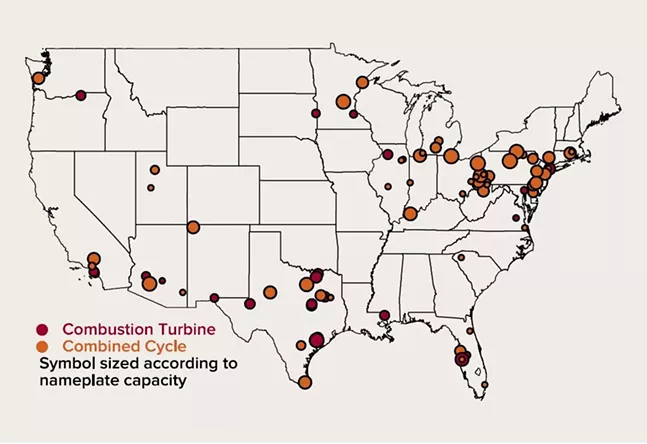 The
report
notes that as electricity produced by renewables, which have seen drastic reductions in cost since 2010, continues to become more efficient, demand for gas production will drop. In turn, this will lower the utilization of things like gas pipelines, which means the price of gas that they transfer would go up.
"As utilization of pipelines falls, the average cost of delivered gas will increase by 30–140% from expected levels, imposing significant costs on customers and investors," reads the RMI report.
RMI expects gas pipelines in the Mid-Atlantic, which includes Pennsylvania, to be 40 percent more expensive than advertised.
On top of that, pipelines in Pennsylvania are already facing additional costs. This week, one pipeline project in Pennsylvania
lost a federal court decision
that would have given access to necessary land, and a natural-gas pipeline owned by Sunoco was
ordered to build structures
to cover up section of the pipeline that have become exposed.
There have already been some poor economic signs for the Pittsburgh-area natural-gas industry. According to trade website
Marcellus Drilling News
, local
fracking
company CNX laid off 70 employees in August. This week, Pittsburgh-based EQT fired 196 workers, about 25 percent of its workforce.
EQT officials told
TribLive
the cuts were part of a broader restructuring plan to "create a more efficient and nimbler organization."