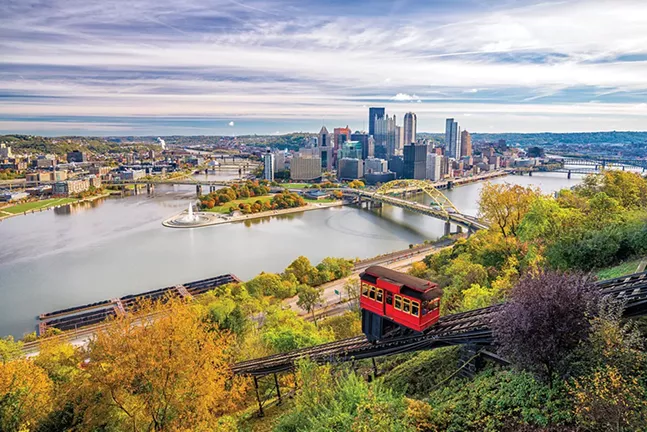 When most Americans think of fall, they picture a season of crisp air, a warm cup of cider, colorful foliage, pumpkin patches, and scarecrows for some reason. It's a season to wear hats and scarves and jackets, but more as fun accessories as opposed to the dead of winter when outerwear is worn like armor.
That's the way fall lives in our collective memory. In reality, the summer heat now lasts well into leaves-crunching season.
Technically, fall always starts around the third week of September. Emotionally, it begins after Labor Day, when the summer weekend trips end, kids go back to school, and pools close for the season. But as the effects of climate change bear down like a heel on the earth's neck, the heat of summer stretches farther into the year.
According to data collected by Climate Central, the last 80-degree day of the year is getting later and later, nationally and locally. In the 1970s and '80s, the last 80-degree day of the year in Pittsburgh fell somewhere between mid-September and early-October. In the past few years, it mostly fell around mid- or late-October.
The gap between our perception and the reality of fall is only growing, creating a dissonance between the onslaught of fall goods and activities and the climate in which we're enjoying them. Apple picking sounds nice, but so does not sweating. Gosh, lighting scented candles sure would be cozy, but there's no air conditioning and even the plants are sweating. Pumpkin spice lattes are back, baby! Too bad it's the hottest day of the year, again.
"Picking fruit, admiring foliage, and the like depend not just on human labor and technologies, but also on the work of pollinators, plant physiology, and a complex web of ecological relationships," says Noah Theriault, assistant professor of anthropology at Carnegie Mellon University.
"All earthly lifeforms and processes are affected by the climate, so we will no doubt feel the effects of global warming in the timing and quality of the outdoor activities we love."
Two weeks into the new school year, Pittsburgh Public Schools dismissed students early twice due to excessive heat, as many of its buildings have no or only partial air-conditioning. (Schools in Maryland, New Jersey, Ohio, and Michigan also closed due to heat). There's a specific ecstasy that comes with weather-related school closures, but usually the cause is snow. When the closure is due to excess heat, the feeling is more pre-apocalyptic.
"Hotter weather doesn't just strain our schools, hospitals, and other institutions, it directly affects people's health and well-being, including in their homes," says Theriault, citing the summer's many heat-related deaths in the U.S and Canada. "It's also important to keep in mind that these effects are not equally distributed. Low-income workers, senior citizens, people with disabilities, and racially marginalized communities bear the greatest burden."
It's a bummer that how we enjoy fall is changing with global warming, but it's all adaptable. Eventually, the temperatures will cool enough to enjoy sweater weather and hot cinnamon liquids, even if it is later than last year. According to the Yale Program on Climate Change Communication, only 58 percent of Americans believe global warming to be caused by humans.
The realest bummer is that people would rather complain about the effects of the heat than acknowledge how it got hot in the first place.
Follow staff writer Hannah Lynn on Twitter @hanfranny.