A Dec. 5
Pittsburgh Post-Gazette
headline was one for the ages: "State Rep. Daryl Metcalfe comes out as heterosexual." The
P-G
story
was about Metcalfe (R-Cranberry) freaking out when state Rep. Matt Bradford (D-Montgomery) briefly touched his arm during a committee meeting about land-use policies.
"Representative Bradford, look, I am heterosexual," said Metcalfe after Bradford tapped his arm. "I love my wife, I don't like men, as you might. Stop touching me all the time."
Most people in the state government committee meeting then laughed. Bradford was shocked and didn't know how to respond. "Chairman, OK, we are officially off the rails," said Bradford. Some representatives also put their faces in their hands, apparently embarrassed, including a man who appears to be state Rep. Brett Miller (R-Lancaster). (See picture below.)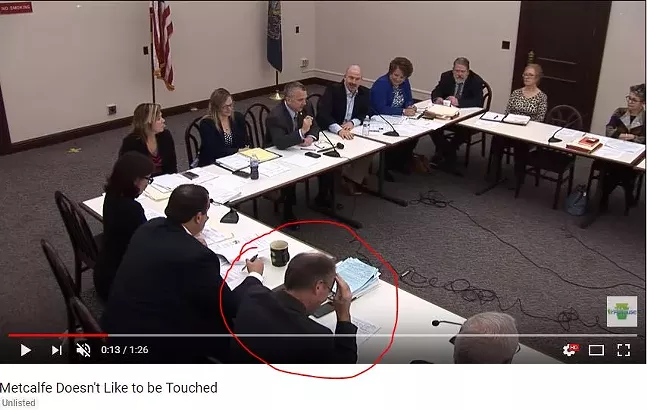 "My intent was to just beg for your permission for about 30 seconds," said Bradford. Metcalfe then responded, "Then beg, don't touch."
Metcalfe has a long history of pushing
anti-LGBTQ
bills, like trying to deny spousal benefits to same-sex couples, trying to make it illegal for LGBTQ people to marry and attempting to cut off state funding to Philadelphia because they marketed to gay tourists. In October, Metcalfe even criticized
Pittsburgh City Paper
for our
"support of homosexuals."
Metcalfe chairs the state House's state government committee and thus has some control of the fate of all civil rights' legislation that goes through the Pennsylvania legislature. He has used this position to block any vote from occurring on the
Fairness Act
, a bill that would grant LGBTQ Pennsylvanians the same
non-discrimination rights
that immigrants, minorities and Christians receive under federal law.
Metcalfe's words to a fellow representative have received such widespread criticism that even Gov. Tom Wolf (D-York) tweeted that he believes Metcalfe's position at the head of a powerful committee should be reconsidered.
"Rep. Metcalfe's comments yesterday were offensive & discriminatory. Unfortunately, this is part of a disturbing pattern of behavior," tweeted Wolf on Dec. 6. "I urge House leadership to re-examine whether it is appropriate for him to continue controlling a committee that oversees civil rights legislation."
Speaker of the House Mike Turzai (R-Marshall) makes the decisions on who heads up committees, but in a Dec. 6
Associated Press
story about Metcalfe's recent comments, he didn't respond to a comment.
The Pennsylvania Democratic Party went even further than Wolf and called for Metcalfe to resign his seat.
"Daryl Metcalfe is too busy parading around his heterosexuality to actually do the work he was elected to do," wrote PA Dems spokesperson Brandon Cwalina in a press release. "It's clear that Metcalfe is more focused on forcing his heterosexual agenda on Pennsylvanians than working to move the commonwealth forward. It's time for him to resign."