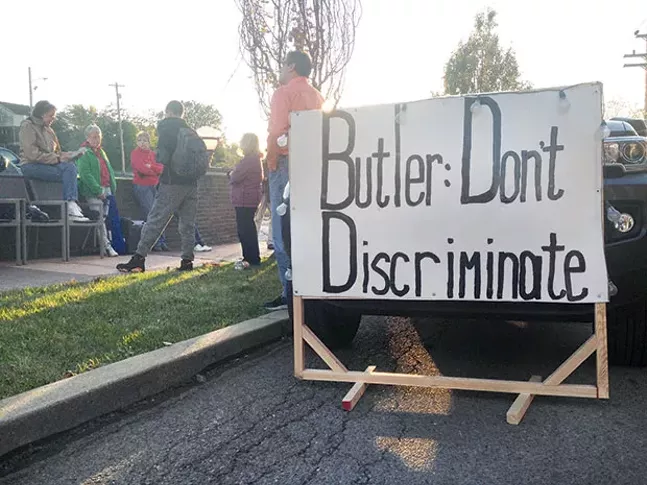 In most parts of Pennsylvania, residents can be fired or evicted because they identify as LGBTQ. About two-thirds of the state's population don't have LGBTQ civil-rights protections and have no legal recourse if they are discriminated against merely because of their sexual or gender identity. This lack of protections is particularly evident in Western Pennsylvania, where only Erie and Allegheny counties have non-discrimination laws.
In Butler, Pa., just a 20-minute drive north of the Allegheny County border, a small group of LGBTQ advocates has been trying for years to change that. Sabrina Schnur of the Butler branch of Parents, Families and Friends of Lesbians and Gays (PFLAG), came out as trans in 2006. She owns a home just outside the Butler city border, and has workplace protections as a unionized employee at a steel mill in Butler County. But she can be refused public accommodation and service from businesses in the city of Butler.
"Right now, they can get up and come up to me and people like me and say, 'Eww, ick, I don't like you. You have to get out,'" says Schnur.
Schnur says LGBTQ residents deserve protections and since 2012 she has been trying to get Butler officials to provide them through an LGBTQ non-discrimination ordinance. The law would add sexual orientation and gender identity to the city's civil-rights protections, which currently cover things like race, religion, gender and national origin. This would prohibit landlords, businesses and public accommodations from discriminating against LGBTQ people in Butler.
Curiously, this decision could come down to who wins in this year's local elections, since candidates for mayor and city council are split on their support for the ordinance. Current Mayor Tom Donaldson, who lost the Republican primary, has launched a write-in campaign filled with anti-LGBTQ rhetoric. This has propelled the ordinance from a side issue into a dominant subject of the election. And in a town that President Donald Trump carried, full-throated LGBTQ support has been hard to come by.
Schnur first asked Butler officals to consider an LGBTQ nondiscrimination ordinance in 2012. The mayor at the time and city council waffled on the decision. Back then, Schnur says, the mayor and council were pretty agreeable to the idea of the ordinance, but the vote was tabled year after year. When Donaldson, an outspoken critic of LGBTQ rights, was elected in 2013, progress was halted altogether.
Then in June 2016, a mass shooting occurred at PULSE nightclub — an LGBTQ bar, in Orlando — and Schnur, PFLAG and the Butler LGBTQ Interfaith Network began campaigning for the ordinance again. The bill would add LGBTQ protections to the city's civil-rights law, and would create a Human Relations Commission (HRC), which would act as the first mediator when civil-rights violations are alleged. The HRC would consist of a board of city-council appointees who would determine whether cases were legitimate and must proceed to civil court, or could be dismissed for lack of evidence or reason.
More than 40 other Pennsylvania municipalities have passed the same ordinance Butler is considering, including Allegheny County, Harrisburg and many small towns in Eastern Pennsylvania. But no small Western Pennsylvania community has passed protections, and despite the relative uniformity of the bill, Schnur says misinformation surrounding the ordinance has hampered its progress.
"I actually heard a councilperson was told by a resident that they were going to have to have gay quotas for employers," says Schnur. (Nothing in the ordinance requires employers to hire a certain amount of LGBTQ employees.)
In May, Donaldson lost the Republican primary to challenger Ben Smith. After the primary, Donaldson posted on Facebook that Butler is facing a "moral crisis" because the town is considering an ordinance that would "potentially allow men to shower with women."
"This is nothing to do with LGBT rights, which is a separate issue," wrote Donaldson on his Facebook page. "This is about privacy and goes against human decency to allow this."
Local nonprofit Grace Youth and Family Foundation also posted falsehoods that the ordinance would force religious organizations to hire LGBTQ individuals (religious organizations are exempt from the ordinance). Butler's Intersection Community Church hosted an event on Oct. 17 to inform their parishioners that "religious freedom is under attack."
Schnur says that ever since Trump was elected in November, anti-LGBTQ statements like these are becoming a bit more common in Butler. But, Schnur says Donaldson's and other religious organizations' claims just aren't accurate. She says all the ordinance would do is provide LGBTQ people in Butler the same rights that Christians, black people and immigrants have. "All we want is the same rights. They are not special rights," says Schnur. "Give us our rights and we will all go home. … The constitution says we are all supposed to be created equal."
The upcoming general election could be that chance. Butler's mayoral race is between Democrat Jamie Lee Goehring, an accountant who is supportive of the ordinance, and Republican Ben Smith, a brewery owner who is opposed. Schnur says for the ordinance to pass, Butler must elect Goehring and reelect incumbent Democratic city councilor Kathy Kline, who would join Republican councilor Michael Walter, who has voiced support for the ordinance, for the three votes necessary to enact the bill. (In Butler, the mayor votes with the four-seat council on bills, so three votes are necessary for a majority.)