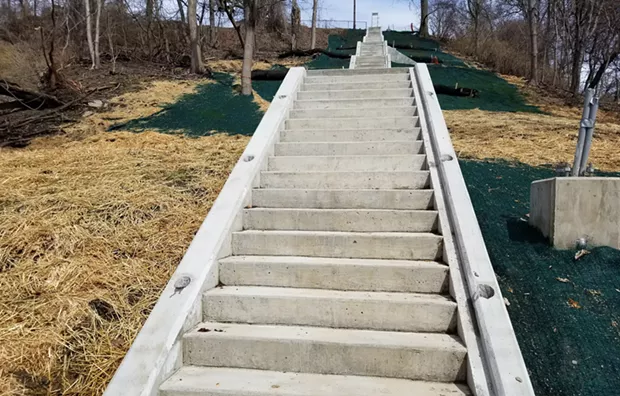 Currently, a grand new staircase is being built in Oakland to take the place of a deteriorating set that connected Joncaire Street up to the Frick Fine Arts building in Central Oakland. Joncaire Street is close to the terminus of the Panther Hollow trail, which provides cyclists and pedestrians a car-free passage from Oakland to Greenfield and directly connects to the Three Rivers Heritage Trail that leads to Downtown.
But Joncaire Street is a bumpy cobblestone road that's incredibly difficult to bike on. So that last connection for cyclists traveling to Oakland from Downtown usually involves either walking bikes up the sidewalk or riding on the sidewalks, which isn't legal in a business district.
Now, the new staircase provides cyclists a different option to traverse up to Central Oakland, with a small ramp next to the steps called a
"runnel."
(In the picture above, a thin strip of concrete can be seen on the right-hand side of the staircase.) Pittsburgh's principal transportation planner Kristin Saunders wrote in an email to
City Paper
that cyclists should be able to walk alongside their bike and push the bike up and down the staircase with ease.
"Including a runnel in the redesign of the new Joncaire Steps will provide a way for people using the Junction Hollow trail on a bike in Schenley Park to access all the amenities that Oakland contains without riding on a cobblestone street or going too far out of the way," wrote Saunders. "Runnels allow a person to push their bike up a set of stairs without needing to carry it."
This is just the latest bike-infrastructure improvement to come to
Oakland
in recent months. In August 2017, new protected bike lanes were installed on Forbes Avenue to provide cyclists with a safer passage on a typically dangerous street for cyclists. And soon, bike lanes will be
extended
on Forbes all the way past the Carnegie Mellon campus and into Squirrel Hill.
Bike advocates
have been calling for these improvements for years, considering Oakland's high percentage of pedestrians and cyclists.
The new runnel staircase also provides a more direct connection to the Schenley Drive protected-bike lane, and all the bike infrastructure present in Schenley Park. Saunders added that the city will consider including runnels in all new steps, "where feasible and where the demand exists."
One cyclist, Patrick Miner, was thrilled to see the new staircase include the runnel for his bike. He tweeted on April 6 in praise of the new staircase, and wrote "many little connections make a big difference."
Ride and runnel on, Pittsburgh.