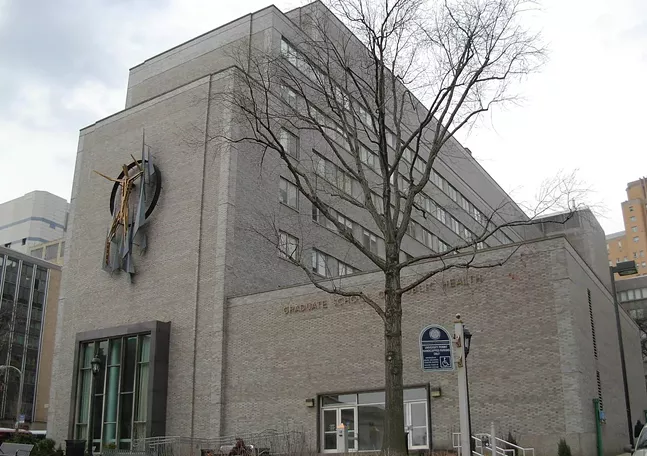 Former U.S. Surgeon General Thomas Parran was the first dean of the
University of Pittsburgh
School of Public Health. That distinction granted Parran the distinction of having a building named for him: Parran Hall, which houses part of Pitt's School of Public Health.
But a group of Pitt grad students wants to remind students and other Pittsburghers of Parran's other memorable distinction, one of the more nefarious nature. While serving as surgeon general, Parran oversaw the Tuskegee and Guatemala syphilis experiments. The
Tuskegee experiment
enrolled hundreds of poor blacks from the rural American South, many of whom had syphilis, and left them untreated for decades to monitor their symptoms. Many participants were never informed they had syphilis.
The Guatemala experiment was similar to the Tuskegee one, except that doctors infected hundreds of Guatemalan prisoners with syphilis to test the disease's symptoms. Some Guatemalans died as a result. The goal of the experiment was to test penicillin effectiveness in combatting sexually-transmitted diseases.
Abby Cartus, a Pitt public-health grad student, says that when she learned about the Tuskegee and Guatemala experiments she was "horrified." She then began working to organize support to change the name of Parran Hall.
"It's ironic to take classes about responsible conduct of research in the building named for a person that was responsible for those [experiments]," says Cartus. Cartus notes that as a result of the Tuskegee experiments, U.S. Congress created a commission to write regulations governing studies involving human participants, and informed consent is now required for clinical trials.
Cartus, who is also part of the cohort of Pitt graduate students who have filed to
form a union
, says a petition was created about two weeks ago asking Pitt officials to rename the building. As of publication, the
petition
has garnered more than 580 signatures.
Cartus says she would like to see a democratic process in deciding a new name for Parran Hall, and suggested former Pitt professor Herb Needleman as a possible replacement. She says Needleman was a pioneer in documenting the negative effects of lead poisoning.
In addition to the petition, the Pitt graduate-student union also sent an open letter to School of Public Health officials calling for a name change to the building.
"We definitely want [Parran's] name taken off the building," says Cartus. "This is part of what is going on right now. We are
taking monuments down
and changing names."
Cartus says the push to rename Parran Hall is also a push to show the value of union organizing, since a goal of the Pitt graduate-student union is to let individuals know they can gain influence and make changes through organizing.
"Part of what we are trying to do with the union, is to educate our peers and engage people in the process," says Cartus. "Doing popular education around this, this is a topic of interest to just about interest. It is a way to engage people in how to gain power."