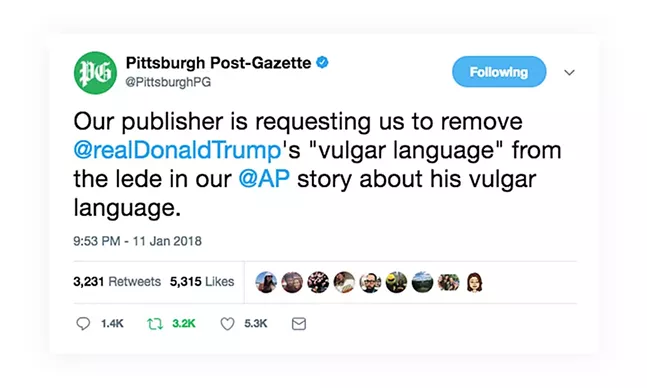 Yesterday, President Donald Trump referred to Haiti, El Salvador and African nations as "shithole countries." The remarks were made during a discussion with U.S. senators about a new bipartisan immigration bill.
"Why are we having all these people from shithole countries come here," Trump
reportedly
said. "We should have more people from Norway."
As is typical following Trump's customary inflammatory comments, the
reaction
was swift. CNN's
Don Lemon
opened his show saying, "This is CNN Tonight. I'm Don Lemon. The president of the United States is racist."
CNN's
Anderson Cooper
took time on his show to reflect on his experience covering natural disasters in Haiti and the people he met there. "Let me be clear, the people of Haiti have been through more, withstood more, fought back against more injustice than our president ever has," an obviously choked-up Cooper said.
Predictably, on the other side of the aisle, Fox News pundits were blasé about Trump's comments. "This is how the forgotten men and women of America talk at the bar," said Fox's
Jesse Watters
.
But here in Pittsburgh, John Block, the publisher of the
Pittsburgh Post Gazette
apparently believes Trump's remarks were too inappropriate for the front page.
A tweet posted by the
P-G
's verified Twitter account last night states, "Our publisher is requesting us to remove @realDonaldTrump's "vulgar language" from the lede in our @AP story about his vulgar language."
An
article
published on the
P-G
's site yesterday opens by saying, "In bluntly vulgar language, President Donald Trump questioned Thursday why the U.S. would accept more immigrants from Haiti and 'shithole countries' in Africa rather than places like Norway, as he rejected a bipartisan immigration deal, according to people briefed on the extraordinary Oval Office conversation." In the article about Trump's comments, on today's front page of the
P-G
, the words "shithole countries" aren't found until the fifth paragraph inside the paper.
"The problem is that the story is actually about the words," says Andrew Seaman, ethics committee chair of the Society of Professional Journalists. "The news is that the president of the United States referred to these countries using that language. It's a dangerous road to not use it because you're hiding the actual news. The president of the United States said it, so you do have to deal with it."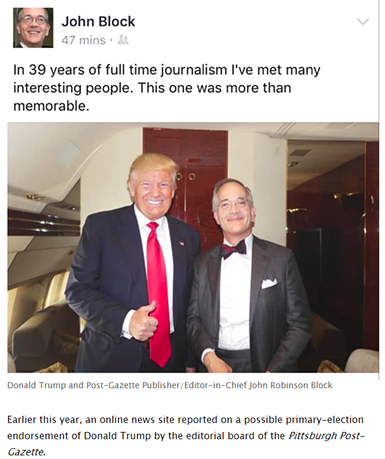 This isn't the first time people have questioned whether the political leanings of
P-G'
s publisher Block would have an impact on content in the newspaper. Questions were raised during Trump's campaign in September 2016, when
Pittsburgh
City Paper
reported that Trump and Block were
photographed
together on Trump's jet. And the
P-G
was recently criticized for an
editorial
supporting U.S. Attorney General Jeff Sessions' recent directive on enforcement of federal marijuana laws.
"My hope would be that they're actually upfront and open about what they're doing," Seaman says. "Don't try to sugarcoat that you're not going to influence editorial coverage. Don't try to sugarcoat that you're not going to be putting a lot of opinion in there that's skewing one way or another."
P-G
executive editor David Shribman did not immediately respond to a request for comment from
CP
. But
P-G
columnist Tony Norman talked to
CP
briefly about the newspaper's recent decision.
"Anytime you can have what's actually said in all of its vulgarity, I think that would be better," Norman said. "But it's not my decision to make."