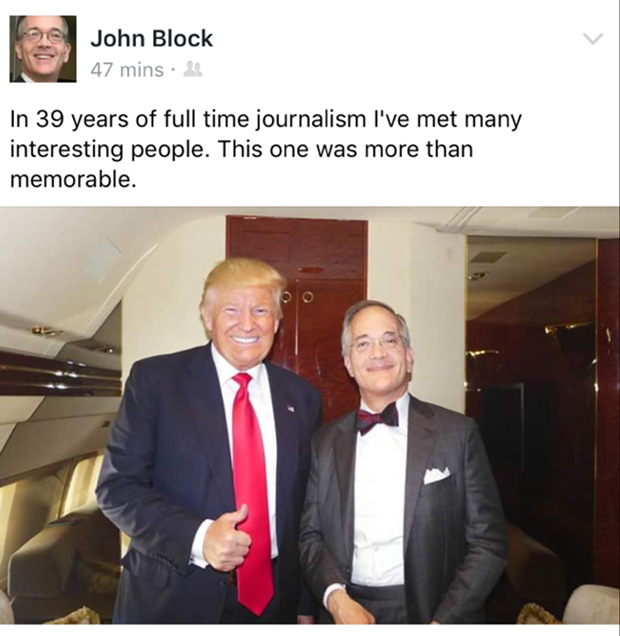 Earlier this year, an online news site reported on a possible primary-election endorsement of Donald Trump by the editorial board of the
Pittsburgh Post-Gazette.

In that report, Philadelphia-based Billy Penn
talked to sources in the P-G newsroom
who were unhappy about any possible endorsement. The website wrote: "Some
Post-Gazette
reporters are worried about their paper's credibility should it support the billionaire candidate who's campaigned on a platform that includes deporting 11 million undocumented immigrants, building a wall between the United States and Mexico and banning Muslims from entering the country."
If staffers were worried then, they couldn't have been happy to learn that John Robinson Block, the paper's publisher and editor-in-chief, spent a little time in Toledo Wednesday hanging out on Donald Trump's private plane and getting his picture taken with the Republican presidential nominee. The visit was even documented in the
Toledo Blade
, the
P-G
's sister publication in Ohio.
According to the paper
: "After the campaign rally, Mr. Trump met with Blade Publisher and Editor-in-Chief John Robinson Block and Blade Editorial Page Editor Keith Burris on his plane at Toledo Express Airport."
Sources tell
City Paper
that the photo was posted on Block's Facebook page under the caption: "In 39 years of full time journalism I've met many interesting people. This one was more than memorable." Both men are smiling and Trump is giving a thumbs up.
Asked via email for comment about the photo, and whether it could suggest that the
P-G
might be slanted toward Mr. Trump, an email from the
Post-Gazette
's Deb Sacco read: "Mr. Deitch, Over the course of his career, Mr. Block has been photographed with many people. Attached, is another ..."
However, despite also shaking hands with Hillary Clinton, there are obvious differences between the two photos, not the least of which is that only one was taken on a private plane. Judging from the appearances of its two subjects, the Clinton photo also appears to have been taken some years ago, rather than during a hotly contested presidential campaign.
CP
also contacted Michael A. Fuoco, president of The Newspaper Guild of Pittsburgh, which represents the paper's union employees, to get his take about the photo.
"I don't feel the guild can make a comment on the actions of the publisher and editor in chief," Fuoco said. "But, regardless of what happens in the fall, if we do endorse for president, we will have no opinion about that. We are completely separate from that and we stay away from it."