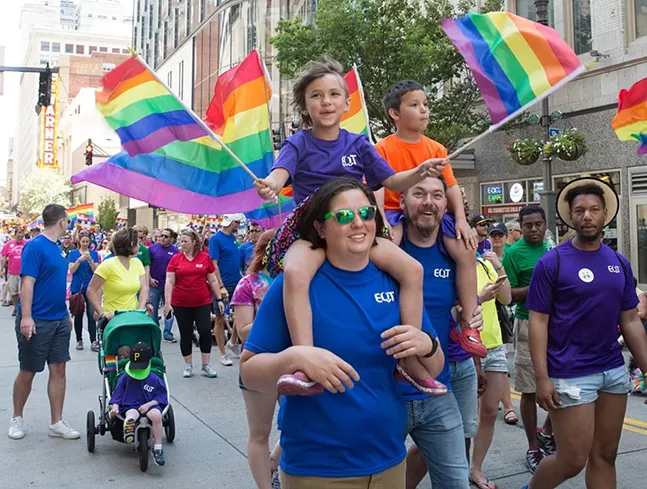 In January, LGBT nonprofit the Delta Foundation announced this year's LGBT Pride Parade in Pittsburgh on June 11 would be renamed the EQT Equality March.
Almost immediately after the announcement, the new name drew backlash from some in the LGBT community who are concerned about
corporate involvement
in LGBT activities. And now, a counter LGBT group has announced they're hosting a separate march that day.
"Pride has historically been about resisting. It's about bringing visibility to a marginalized community," says Ciora Thomas, leader of SisTers PGH, a LGBT organization helping to organize the counter march. "That's the history of Pride. We trying to carry on that legacy."
Those involved in the counter march are concerned with the impact EQT's fracking industry has on the
environment
. Fracking, they say, has been linked to a number of health problems, and Thomas says that's not the kind of company she and others want involved in the LGBT community.
Additionally, Thomas says EQT has a history of giving campaign donation to anti-LGBT legislators. Among EQT's
campaign contributions
last year, the corporation gave $10,000 to Pennsylvania Rep. Bill Shuster (R-Hollidaysburg). In 2013, in response to the Supreme Court's ruling on same-sex marriage Shuster sent out a release saying he was "disappointed" in the decision.
"I am committed to making sure the long-standing tradition of marriage being solely between a man and a woman is upheld. Today, a handful of activist judges attempted to destroy traditional marriage and legislate from the bench. I will continue to work toward legislation that will uphold what I believe to be one of our most important and long-standing traditions," said Shuster.
In 2016 EQT gave $7,500 to Pennsylvania Rep. Tim Murphy (R-Upper St. Clair), who in January
misgendered
Chelsea Manning, a trans woman who had been pardoned by President Barack Obama.
EQT Foundation President Charlene Petrelli sent the following statement to
Pittsburgh City Paper
in response to a request for comment on the criticism being leveled at EQT.
"EQT Foundation — the philanthropic arm of EQT Corporation — is honored and excited to join with the Delta Foundation as the naming underwriter of what is now known as the EQT Equality March. This is the second year that EQT, and the EQT Foundation, are participating in Pride. Last year, nearly 100 EQT employees, along with their friends and families, marched in the parade. Everyone who participated — from those who'd never been to the Equality March, to others who attend each year — felt a connection and [camaraderie] with those around them. In fact, after last year's Equality March, a number of EQT employees came together to create a new employee resource group at the Company, called EQT Pride. The group's mission is to foster an environment for inclusiveness and respect for LGBT employees, as well as play a role in recruiting, developing and retaining LGBT employees. EQT values the importance of celebrating all members of the community, and is looking forward to having a noticeable presence at this year's Pittsburgh Pride festivities."
This year marks the Delta Foundation's 10th year hosting Pittsburgh Pride. The organization was created in 1996 "for the purposes of uniting and fostering good fellowship and social interaction among LGBT residents in the metropolitan Pittsburgh area," according to Delta's website.
But this isn't the first time Delta has been
criticized
for its handling of the Pittsburgh Pride Parade. Critics have said the organization and its events aren't inclusive of the entire LGBT community and people of color. Delta did not respond to a request for comment on this story.
"We're not the first group to march against [Delta]," says Thomas. "They're supposed to represent the LGBT community as a whole.The [Delta] Foundation needs to be the foundation of the community they say they represent."
The counter march,
Peoples Pride 2k17
, is scheduled for June 11 at 1p.m., directly after the EQT Equality March.