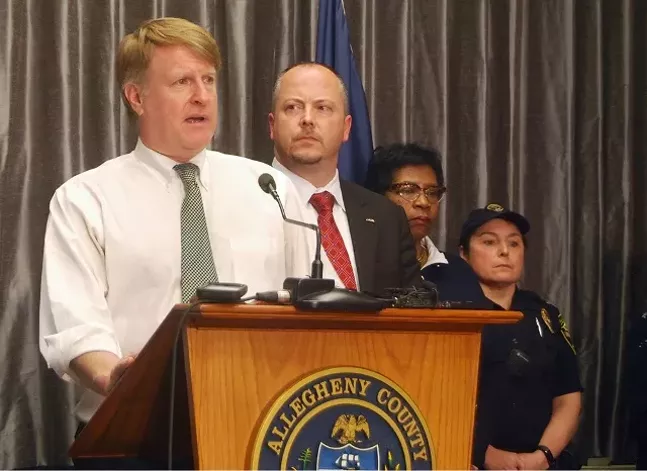 Allegheny County Executive Rich Fitzgerald held a press conference this afternoon along with several regional officials involved in the investigation of
last night's mass shooting in the Pittsburgh suburb of Wilkinsburg
.
"We've been very fortunate that we've been joined with a lot of help from folks around the region, folks from the federal government, the ATF, local law enforcement, Wilkinsburg, the county, all pitching in," said Fitzgerald. "We have folks from our human-services department, department of behavior health dealing with the tragedy in Wilkinsburg.
"This is something no community wants to deal with, no community wants to have to face. It's a sad, sad day for us in this region."
Officials would not provide information on suspects in the case but said they fled on foot. Allegheny County Police Superintendent Charles Moffat said the three living victims in the shooting have been cooperative.
"We don't have any firm suspects. In other words, we don't have enough at this time to make any arrests. We don't have enough to even mandate that we pull someone in," said Moffat. "We're looking at two shooters based on the crime scene. The shell casings indicate there are two separate weapons, and the bullet fragments we got from the victims indicate there are two weapons. We have not recovered any weapons at the scene."
Moffatt said officials believe nearly 50 shots were fired.
"It appears at this time that most of the victims suffered multiple wounds," said Moffat. "At this time we can't determine exactly how many [bullet-wound] exits and how many entrances."
Moffat also supported the theory explained earlier today by District Attorney Stephen Zappala who said the assailants approached the backyard from two different directions.
"It appears [the victims] were targeted," said Moffat. "It appears that some of the victims were trying to get into the doorway. A male was shot and went down, and then the females were trying to get over him. They were shot from that position also trying to get into the home."
Those with information on the shooting should contact the Bureau of Alcohol, Tobacco, Firearms and Explosives at 1-800-ATF-GUNS.
"We joined this investigation this morning to assist Allegheny County police department in solving this senseless homicide. The ATF is prepared to offer a up to $20,000 reward for information leading to the arrest and conviction of those responsible for this heinous act," said Chris Taylor, a assistant special agent with the ATF. "We're making every available resource available to the superintendent to solve this crime and bring these perpetrators to justice."
According to Taylor, "The accuracy of the shooters was high. One woman had [dozens of] bullet wounds in her." Regarding the AK-47 and 40-caliber weapons used in the shooting Taylor said, "Models like that are cheap and popular. You can buy them anywhere, gun shows, etc."
Officials say Franklin Avenue, where the shooting took place, hasn't seen a lot of problems in the past. Wilkinsburg Police Chief Ophelia Coleman said she believes there were seven homicides in Wilkinsburg last year, almost level with the number of victims last night.
"I'd like to see more money coming to our neighborhood in order to hire more police officers. But we all know having more does not mean you will be free of crime," said Coleman. "I feel that the officers we have in the Wilkinsburg police department have done an admirable job.
"It is what it is. You have people of the criminal element that are just hellbent on disruption, chaos and confusion."