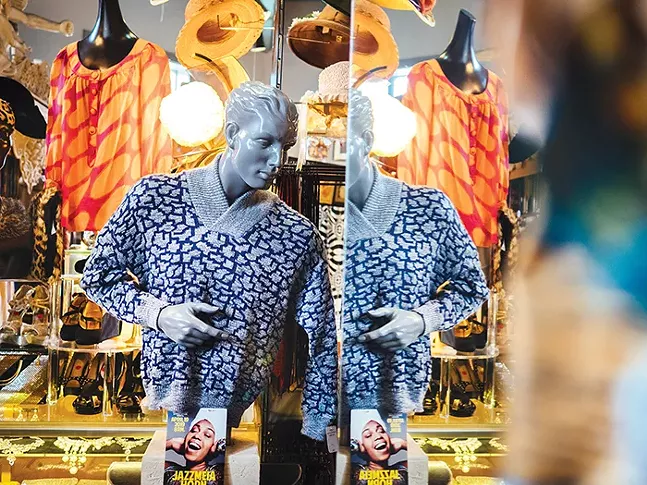 If you want to buy some happiness, head to Shadyside. This neighborhood is best known for the shops lining Walnut Street. You'll find a "see and be seen" kind of crowd here, carrying shopping bags from chain retail stores like Gap, Banana Republic, William Sonoma, Apple, and Sephora. Plus, local shops like
Weisshouse Pittsburgh
(
weisshouse.com
) with high quality home furnishings and
Roberta Weissburg Leathers
(
robertaweissburgleathers.com
), which includes an upstairs workshop. If you're looking to get pampered, the neighborhood also has a wealth of spas, salons, and fitness centers, including
European Wax Center
(
waxcenter.com
),
Amazing Yoga
(
amazingyoga.net
), and
Nadia Salon
(
nadiasalon.com
). Over on Ellsworth Avenue, you can find artwork as well. Visit the quirky
Gallerie Chiz
(
galleriechiz.com
) or
Morgan Contemporary Glass Gallery
(morganglassgallery.com).
---
Bookmark this site:
thinkshadyside.com
---
Arts + Culture

Whether you're interested in seeing art or honing your artistic ability, you can do it at
Pittsburgh Center for the Arts
(
center.pfpca.org
). In addition to art exhibits, this nonprofit organization has classes open to groups, families, individuals, and kids — perfect for pushing yourself creatively.
If improv comedy tickles your funny bone, the
Steel City Improv Theater
(
steelcityimprov.com
) is a great place to be. Between the improv shows, classes, and corporate workshops, it's easy to surrender to laughter.
---
Food+Drink
5801 Video & Lounge
(
5801videolounge.com
) is an LGBTQ-focused spot with 15 big screens showing both sports and reality TV. There are also darts and poker leagues, a great food menu, and an upstairs bar for non-smokers.
Breathe in the waffle-cone smell of
Millie's Homemade Ice Cream
(
millieshomemade.com
) and get lost contemplating the seasonal ice-cream flavors.
Leave with a bag of broken waffle-cone bits for later. The dishes at
Noodlehead
(
noodleheadpgh.com
) are inspired by the street markets of Thailand, and they pack a major flavor punch. It's hard not to get drawn in by the aromas while you're walking past. Cash only!
People will tell you to try the burnt-almond torte at
Prantl's Bakery
(
prantlsbakery.com
) if you haven't already, but there are more than a hundred sweet options available, including fruit Danish, nut-filled coffeecakes, and an assortment of pies.
---
Shopping
Like vintage? Head to Ellsworth Avenue to two shops with bragging rights — celebrities have been known to shop at both.
Eons Fashion Antique
(
search Facebook for "Eons"
) is a vintage-clothing shop covering the 1930s through the 1980s; a few doors down is
Hey Betty!
(
heybettyvintageclothing.com
), a chic vintage clothing shop whose owners have been curating and selling vintage clothes for decades.
In addition to an expansive selection of greeting cards,
Kards Unlimited
(
kardsunlimited.com
) offers an array of novelty gifts, toys, books, and much more.
If you have kids, stop by
Picket Fence
(
picketfenceshadyside.com
), a whimsical shop with gifts for babies and kids. If your kids (or you!) are into anime, don't miss
Kawaii Gifts
(
shopkawaii.com
), a cute shop with tons of adorable Japanese imported goodies. If your kids are the four-legged kind, treat your fur baby right at
Petagogy
(
petagogy.com
), a pet store featuring natural food, treats, and toys.
Tokyo Japanese Food Store
(
tokyostorepgh.com
) is a tiny supermarket beside a laundromat in a strip mall. In addition to a wide variety of Japanese snacks, treats, noodles, and freshly-made bento, you can also rent and buy Japanese dramas and variety shows here.
---
Where the Locals Go
Drink where the locals drink? Hell, drink where our mayor drinks.
Cappy's Cafe
(
cappysonwalnut.com
) is Pittsburgh Mayor Bill Peduto's favorite spot for late-night meetings. It's a low-key corner bar where, in addition to possibly spotting politicians, a solid Friday night of wing bites and karaoke (a.k.a. Cappyoke) can be found. Trivia happens on Wednesdays, and sports are generally on the television.