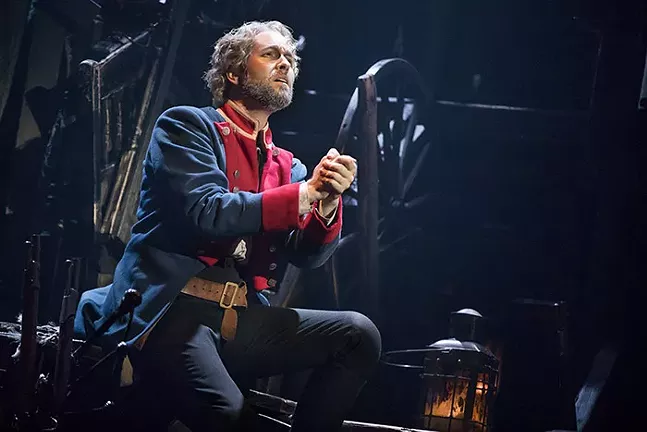 Ever spend weeks psyching yourself up to see your favorite musician in concert by playing their hit song over and over on repeat, only to become crushed when the day finally comes and instead of belting out the album cut you've been singing along to, they switch up the chorus or the beat, ruining everything? Like if Bruce Springsteen turned "Born in the U.S.A." into a slow jam, or Elton John deciding to skip over the familiar "Oh no no no" part in "Rocket Man."
Swap out Elton John for Jean Valjean and there was me, sitting in The Benedum Center during opening night of PNC Broadway's tour stop of
Les Misérables
, cringing at the creative liberties during the first few acts because they weren't the songs from the original Broadway soundtrack I have memorized from pretty much the very first note to the last.
OK, yes, I admit to being a little bit of a
Les Mis
purist (and maybe even a little bit of an addict), but here's the thing: if you're reading this review, I'm guessing you're the same way. No one's reading this because they're still deciding on whether or not to go. (The entire show, on stage in Pittsburgh through Sun., Dec. 1, is nearly sold-out, each show
listing 5% availability
or less, so get your tickets now if you haven't already.) You're reading this to see if anyone else noticed that there seemed to be a lot more phallic jokes this time around (
*raises hand*
), or you want to know if I also was missing the original revolving stage from the production. (
Yes, yes, I was.
) But there's a reason it's the second longest-running show in the world and why its fans are so hardcore: it's because
Les Mis
is an epic story worthy of every praise it gets, even with a few idiosyncrasies.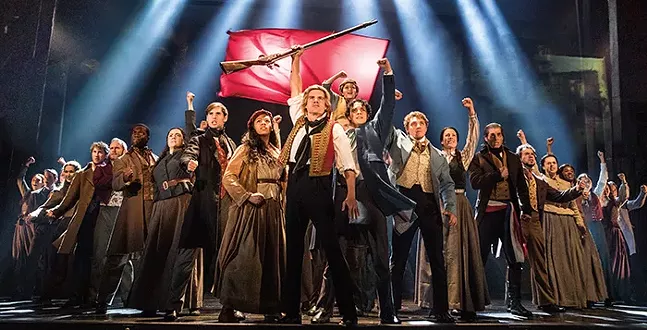 Les Misérables
isn't just my favorite play, it's part of my upbringing. I've only seen it once on Broadway, and now four times in Pittsburgh, but I grew up with my entire family singing along to the original Broadway soundtrack on our car stereo during long trips, and I continue to blast it in my headphones during work at least once a week. (Some handle stress with smooth jazz; I calm down with a heartfelt rendition of "At The End of the Day" on top volume.)
But just as I've grown accustomed to Bob Dylan switching up "Simple Twist of Fate" over the years, I acknowledge that with a play in production for this long — this tour is the 25th anniversary production and has been advertised as having "new staging and reimagined scenery" — one can expect that people will try to teach an old dog new tricks, even when they're not needed.
If you're one of the few people who doesn't know the story, it's an epic tale from 19th-century France, centering on Jean Valjean (Nick Cartell), a French peasant who serves 19 years in jail for stealing a loaf of bread. After he breaks parole, he's relentlessly followed through life by police inspector Javert (Josh Davis) whose life mission is to recapture the convict, even after Valjean begins anew, fulfilling an honorable life raising Cosette (Jillian Butler), a child-turned-woman he promised a dying mother Fantine (Mary Kate Moore) he'd watch over.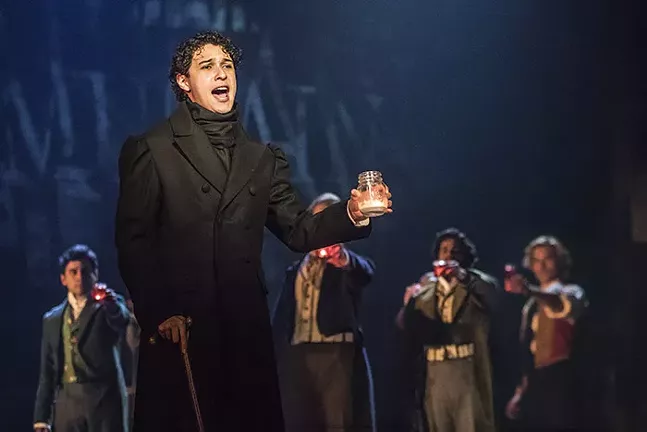 There's also talk of war, a revolution, a love triangle, and a lot more plot points to the story, as well as a huge ensemble I've barely begun to list, but at nearly three hours long, it's hard to summarize the entire thing here. (And no, that's not a typo. Because of the production's two hours and 55-minute length, including a short intermission, there is a strict policy requiring attendees to be in their seats by 7:30 p.m. on the dot, or you won't be allowed in until after the prologue.)
Just like his characters' transformation during the show from a thief to a compassionate, caring father, any initial doubts I had at first to Cartell's Valjean disappeared when he brought down the entire house with his performance of "Bring Him Home." The actor could have skipped an entire chorus or two for all this purist cared, after hearing his emotional rendition which brought tears to my eyes. As well did other performances during the evening too, including the amazing casting choice of Phoenix Best as Cosette's childhood companion, Éponine, whose beautiful vocals — I can't believe I'm admitting this! — gave original Broadway cast member Frances Ruffelle a run for her money, especially during "On My Own." Davis' Javert and Joshua Grosso's portrayal as Marius, Cosette's love interest, were also exceptional. (I had to stop myself from jumping up and applauding as Butler, Cartell, Grosso, and Best sang "In My Life.")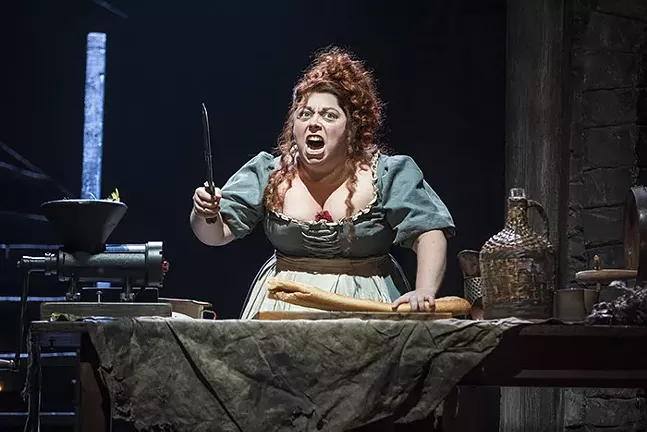 New to this year's performance was a digital screen, best used as background scenery when depicting the passage of distance with the screen fading into the background as actors walk in place. (Or in Javert's final scene, but that's best left to see than describe here.) For the most part, though, the digital images were largely hokey and distracting. Victor Hugo first published his novel the play is based on in 1862 and the theater performance is better suited for a wooden stage than a digital one. But again, teaching a dog new tricks, I guess?
Allow me one personal disgruntled rant with the overall play, more so than this rendition, but you're either a fan of the Thénardiers — the drunken, evil, over-the-top ridiculous comedic pair of the show — or you're not. I fall into the latter category, as I've always felt that the comedy distracts from the heart of the stage performance, and eliminating those characters would have easily trimmed a half-hour from the showtime. But, if you are a fan, which a great majority of the cheering audience during opening night seemed to be, you will very much love Allison Guinn's performance; a funnier Madame Thénardier I've never seen. (I just wish I had seen her performance in Arcade Comedy down the street, rather than during this show.)
Regardless, I'd see the whole thing all over again in a heartbeat, and I'll go see it again the next time it's in town, and reader, if you've made it this far, I know you will too.