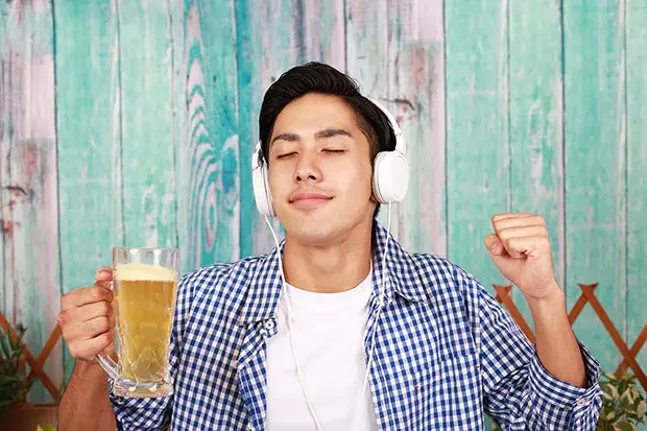 Great drinking requires a great soundtrack. Whether drowning your sorrows to country classics or getting turnt to '90s alternative, music shapes the way we imbibe. To assemble the ultimate drinking playlist, we asked Pittsburgh's premier booze afficionados and songsmiths for their favorite songs to sip to.
"Debra," Beck. "If it's on in a bar and people aren't paying attention to it, it's just a song. But once someone hears a little bit, they tell their friends, and pretty soon everybody is standing around wondering what's up with this song. It brings people together like that." — Will Groves, Maggie's Farm Rum

"Don't Stop Me Now," Queen. "Mercurial Freddie will not let you be stopped by your inhibitions. Neither will alcohol. The two pair perfectly." — Danielle Skapura, Acacia

"Chug-a-Lug," Roger Miller. "The driving guitar stabs propel you forward. You take a sip every time he says 'chug-a-lug.' Just when you think it can't get any worse, the song modulates, and you're drinking even faster. A second key change. You do a double back-flip."—Jonathan Chamberlain, lead singer of Delicious Pastries

"I Want To See The Bright Lights Tonight," Richard and Linda Thompson. "I love the universal theme of 'I've been working my ass off and now I need to get crazy.' It has a very celebratory sound, the way you feel when you finally have a night off and you can't wait to go out and let off steam." — Jamie Patten, Allegheny Wine Mixer

"I Am a Tree," Guided by Voices "It's on the jukebox at Gooski's. Every time it comes on I get a huge smile on my face, the sudden urge to buy a shot, and a jolt of energy." — Lauren DeLorenze, lead singer of The Red Western
"El Scorcho," Weezer. "It's a simple but catchy song, with silly lyrics that contain allusions to Madama Butterfly, that generally sums up how absolutely inept I was at courting women. It's great drunken fun for nerds." — Pete Kurzweg, Independent Brewing Company

"Young New England," Transit. "It's got everything. Good times, love, heartbreak, friendship, being young but growing up … all with a really solid vibe that's not depressing or too poppy." — Andrew Witchey, Dancing Gnome

"Lonesome, On'ry and Mean," Waylon Jennings. "I love the raw sound of this song and ALWAYS love to belt out his lyrics whilst buzzed. Just the way I imagine he intended." — Greta Harmon, Bar Frenchman

"Sweet Caroline," Neil Diamond. "When I think of drinking songs, I go back to my days in college at Penn State. You would have the whole bar singing together: 'So good! So good!'" — Cecil Usher, Richard DeShantz Restaurant Group

"My Old Drunk Friend," Freakwater. "When I want to dwell in the bittersweet, Freakwater nearly always takes me there. Although their songs are originals, they sound like old country tunes. They're fierce and broken and basically make me want to drink whiskey and play music with my own friends." — Sherrie Flick, author of Whiskey, Etc.