EVANSTON, Ill. — The rain fell harder with each passing minute as the Pittsburgh Passion huddled in the aftermath of their loss in the second round of the Women's Football Alliance Division I playoffs on Sat., June 17.
The scoreboard showed the damage, a 45-0 Passion loss to the host Chicago Force — until it was finally turned off. The few fans in attendance were gone; the Force players were gone. The stink of a dead animal outside the stadium fence hung in the air and the once-distant bolts of lightning grew nearer.
And still the Passion huddled.
Finally, no less than a half-hour later, the team broke its circle.
"This team is like a family to all of us, and a lot of us are going to be done after this season, retiring and whatnot, and nobody wants to be done," tight end Laura Baden told City Paper on the field after the game. The Shaler resident, who has retired, fought her emotions after her final WFA game. "This team means more to me than I could ever describe."
It was a rough end both for Baden and to the Passion's season; the Passion (7-3) were thoroughly outmatched by the Force (8-1). Less than four minutes in, a 56-yard run set up a short touchdown plunge that gave Chicago a 7-0 lead and set the tone for a lopsided affair.
The host's defense suffocated Pittsburgh quarterback Janice Masters and kept explosive receiver Angela Baker mostly contained, while Chicago running back Kristy Moran totaled 251 yards and two touchdowns offensively.
An 85-yard punt return for a touchdown in the waning seconds of the first half gave Chicago a 31-0 halftime lead and took any remaining hopes of a dramatic comeback out of Pittsburgh's mind. In the second half, the Passion were able to find more room to move offensively. But the team failed to convert on several trips inside the Force's 40-yard line, and ultimately saw its season end in a shutout.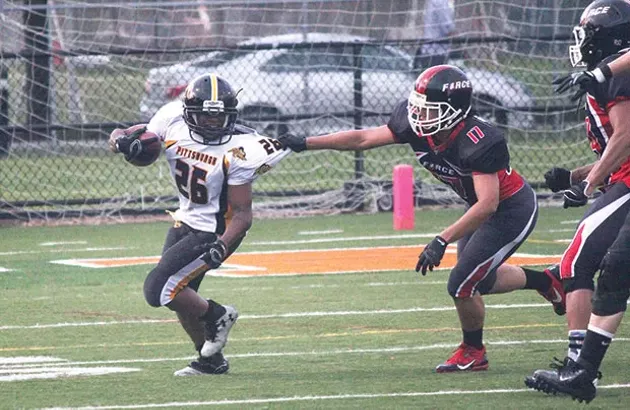 "It's a hard one to swallow," Baden said. "We have all the tools, we have all the athletes [that we need]. A few things went wrong as far as timing … but you can't blame a loss on that stuff — that scoreboard does not show our talent, does not show the kind of season we had."
Pittsburgh coach and co-owner Teresa Conn, however, brushed aside any suggestion of disappointment about her team's elimination prior to the league championship, which will be held in Pittsburgh on July 21.
"We have so much youth, and I'm very much looking forward to the future," Conn said. "I am pleased with our season because I know that we have played above everybody's expectation of us."
The Passion didn't lose at home all season, going 5-0 at West Allegheny's DeMichela Stadium — including last week's 34-14 first-round win over Atlanta.
In fact, prior to Saturday's rout, the Passion were just a few breaks away from an undefeated record. Their two losses — May 13 at Boston and May 27 at Washington, D.C. — were by a combined six points, a drastic contrast to the team's dominant wins this season like a 65-17 demolition of Baltimore on April 8, and a 72-6 beatdown of Detroit on April 22.
They did it all with an inexperienced, makeshift roster that entered the season with tempered expectations. Janice Masters replaced longtime quarterback Lisa Horton under center, the running-back corps was revamped as well, and 10 of the 11 defensive starters were either rookies or playing in new positions, Conn said.
The Passion nevertheless relied on its small group of veterans for stability — veterans like Kim Zubovic, a member of the team for more than a decade, on the defensive line.
"I've been with the team for 13 years and the message hasn't changed: It's teaching life's lessons through sports," Zubovic said. "We just keep delivering the message to the younger ones and it doesn't take them long to pick up on it."
As the team, huddle finally broken, migrated toward the bus Saturday, the raindrops masked the tears on at least a few faces. Baden — reflecting on her career with the Passion — could hardly forget that message.
"You can't get the sisterhood anywhere else like you can here," Baden said. "You're fighting so hard for the person next to you, and if you can't do your job, they get hurt. This sport, it's shown me that I am a lot stronger than I ever thought I was."
Ben Pope is a student at Northwestern University's Medill School of Journalism and a sportswriter at The Daily Northwestern.