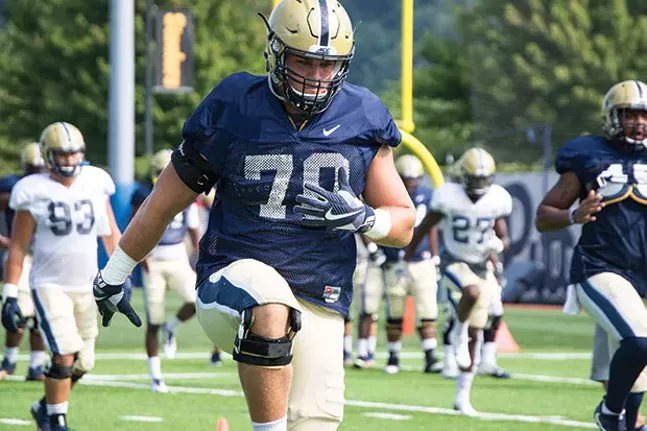 It's 10 a.m., and it's already Alabama-hot on the soggy turf of the Beano Cook Fields at South Side's Rooney Sports Complex. The morning downpour has recently abated, saving players, coaches and the five attending media members from weathering practice in a late-summer storm. Even so, it is positively terrarium-like, and the paunchy clouds are so low it feels claustrophobic.
Young Thug's "Tomorrow 'Til Infinity" blasts from the loudspeakers while players line up for flexibility and agility drills — the first official segment of practice open to the media. A few players are trying to work out cramps in what head coach Pat Narduzzi calls "camp legs" in the mini-PT/triage unit adjacent to the field. Appropriately enough, Narduzzi had addressed this in his morning briefing, citing the need to push through mentally and physically: "This is the time teams would become great. Or, level off and just become an average football team."
Does this 2017 Pitt team have what it takes to be great? Or will it once again land in the dreaded "average" zone that Narduzzi dismissed?
Last year's Pitt Panthers had moments of real greatness — thrilling wins over national champion Clemson (the only loss the Tigers suffered) and blood-rival Penn State in the resurrection of a long-dormant but never extinct statewide enmity. On the other hand, the overall 8-5 record was disappointing and included heartbreaking losses to Oklahoma State and an equally average University of North Carolina.
With an electrifying offense averaging nearly 41 points per game, Pitt was rarely out of any contest. But with running back and local legend James Conner gone, along with quarterback Nate Peterson and several stand-out offensive linemen, this will be a largely new cast of characters. Offensive coordinator Shawn Watson replaces Matt Canada (who left to take the same job at LSU in the SEC), making this an entirely different team.
Even if Watson can replicate or surpass that offensive creativity and opportunism, and even if redshirt senior QB Max Browne and running back Qadree Ollison can step into the big shoes left behind, the offensive line may be key to it all.
The Panthers are taking a unique approach to getting the "bigs" upfront ready to play. "Cross-training" is what Narduzzi and line coach John Peterson call it. There are seven players who could see snaps on the line, and all of them are practicing multiple positions. Mount Lebanon's Alex Bookser has taken snaps at all five positions, for instance. And we could see Brian O'Neill, one of Pitt's best O-lineman, at either right or left tackle.
"It's more of a collective feel in terms of leadership," O'Neill said after practice. "But there's a more focused group effort. I think guys understand they're going to need to play multiple positions to help our team. That's something we've worked on all summer, too. It's not just something we've worked on this fall."
The team still has to address its biggest weakness: the defensive secondary. Last season, Pitt's defense ranked 127 out of 128 Division I teams in passing yards allowed per game, and dead last in total completions permitted. Add in the three-game suspension of Jordan Whitehead, arguably the team's best defensive back, for undisclosed violations of team policy, and it puts an even bigger question mark on the defensive secondary, particularly in that second game at Happy Valley.
The defensive line and linebacking corps will likely be called upon to cover up a multitude of sins by the secondary by being disruptive in both schemes and timing. Sophomore Saleem Brightwell has moved from outside backer to inside, where he will be called upon to make the defensive calls and audibles.
"I feel like our main strength is going to be flying to the ball and playing fast," Brightwell said of the defensive unit.
The road won't be easy. The Panthers' schedule is positively riddled with landmines against ranked teams. Preseason rankings are fairly preposterous, but at the same time, these are traditionally powerful programs, teams which are, on paper at least, better than Pitt. Penn State is ranked sixth; Oklahoma State is 11th, Virginia Tech is 22nd, and Miami is 18th.
But for now, those discussions seem far from this venue. After several hours of boilerplate drills in the late-August heat, some players dunk themselves in large Rubbermaid pools filled with water and ice just beyond the fence, while a good number sit on a bench under an awning away from the now-biting sun. An unlucky few are tossed to the media to give boilerplate answers to boilerplate questions. But Brightwell is telling the truth when he says, "I feel like we do have a chip on our shoulder and want to prove everybody wrong."
He is no fool. He knows that if Pitt is going to make the next step, from an average team to one that can at least contend in ACC, the defense will have to be better.