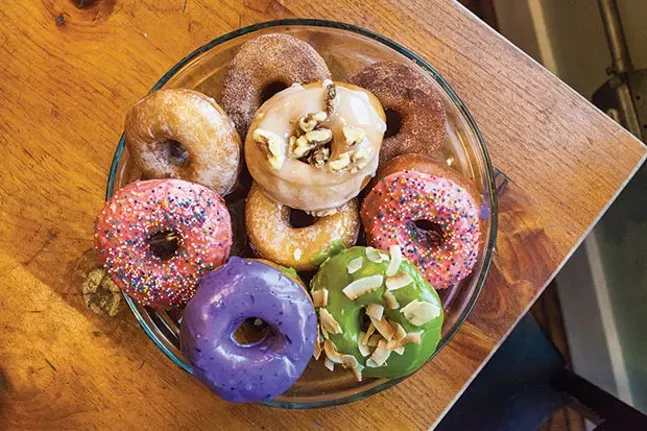 Pittsburgh is having a donut renaissance, albeit a bit later than other towns where fancy donuts have gained fame (think Portland's Voodoo Doughnut). And yet, Pittsburgh has been a stronghold of the traditional iteration of the sweet treat for years. Sugar-covered fried dough spans many cultures, each with their own version, whether it's Polish pączki or Mexican churros. And thus, many immigrant groups have contributed to what we now think of as a quintessential, American snack — the donut.
Donuts take many shapes, sizes and flavors, but the Oxford English Dictionary defines them as "a small fried cake of sweetened dough, typically in the shape of a ball or ring." According to Smithsonian magazine's history of the donut, while made all over the world, donuts have a distinctly American identity. Archeologists have turned up fossilized fragments of donuts in prehistoric Native American settlements. They cited what is now considered the classic American donut as coming from Manhattan — the Dutch olykoeks, which translates to "oily cakes." American GIs whet the general public's appetite for donuts after returning from World War I, where women had brought donuts to the trenches as a reminder of home.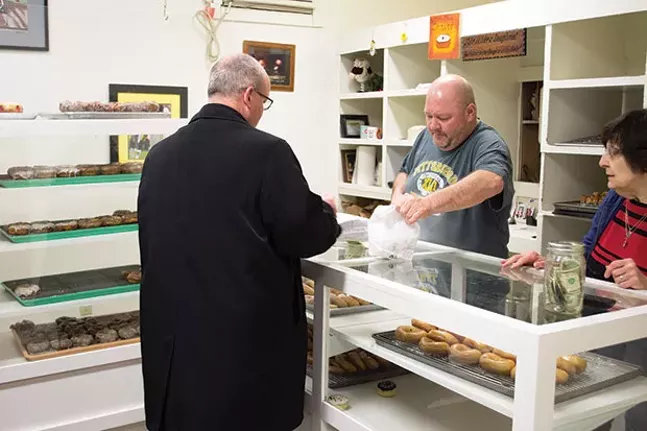 But now, with access to more ingredients than ever before, the humble donut is refashioned to appeal to a modern crowd. And the simple structure of the pastry makes it eminently riffable. New local donut purveyors, like Wolf Teeth and Gluten Free Goat, cater to people who might get left out of the traditional donut-eating crowd because of dietary restrictions. Both of these are tiny businesses that started as pop-ups, with just one person determined to figure out how to recreate the pastry in a unique way.
After she was diagnosed with celiac disease, Jeanette Harris, of Gluten Free Goat, needed an alternative that would be safe for her to enjoy. "I starting making donuts because I couldn't find any that I could eat, and I grew up eating amazing cake donuts," she wrote in an email to City Paper. Unable to use grains such as wheat, barley and rye, Harris developed a method using alternative flours like organic brown-rice flour, potato starch and garbanzo-bean flour. Instead of frying the donuts, she bakes them, which gives them a dense, cakey texture. Her flavors run from traditional, like apple cider, to modern, but still simply glazed, such as lavender lemon. In 2014, Harris began selling them wholesale to coffee shops. In 2017, she opened Gluten Free Goat Bakery and Café, in Garfield, where she serves gluten-free baked goods and other light fare. She's currently a finalist for a Tory Burch Foundation Fellowship that supports female entrepreneurs with mentoring and money.
MJ Flott (who uses they/them pronouns) started a vegan-donut business called Wolf Teeth Donuts in 2016. "I have ADD, which means that occasionally I become fixated on a thing, and it's the only thing I can focus on. Apparently, in 2016, that was donuts," says Flott. They were a strict vegan at the time, and so they set about making their own. They started giving them away, while fine-tuning the process at Lili Café, in Polish Hill. Later, Flott began selling the donuts —and selling out quickly.
They never anticipated becoming a business. "That was when I learned how to bake. I learned everything in the last year," says Flott. Wolf Teeth donuts are yeasted and fried in the traditional manner. The dough isn't very sweet, and Flott uses flavors, like lemon poppy seed and matcha, and glazes to impart sweetness. They like to keep it simple. "Pittsburgh is a pretty working-class, no-fuss, no-muss city," says Flott. "It's kind of a fundamentally working-class pastry. It's cheap as hell to make, and you have to wake up at 3 in the morning to do it. It's something you can eat while you go to work." They now run the pastry program at Kaibur Coffee, in the former Lili Café space.
But despite these donut innovations, homage should be paid to the old-hands of Pittsburgh's donut scene. Better-Maid Donut shop, in Crafton Heights, has been turning out donuts for about 70 years. The current owner and donut-maker, Ken Smith, bought the venue in 2003, and he learned the craft from the previous owner. Even at 6 a.m., when the shop opens, there's a line down the street. Smith makes yeasted, jelly-filled, sourdough and cake donuts — about 100 dozen daily. He works 12-hour shifts but it's clear he loves what he does. "I just want to make donuts and sweeten everybody up," says Smith, smiling.