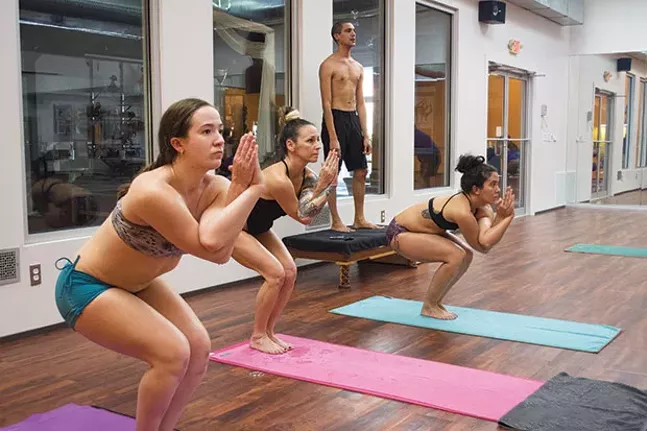 It's a little before noon on a Friday at Yoga Factory Pittsburgh. One by one, a mix of men and women shuffle into the studio, heated to 105 degrees. No, it's not an exceptionally hot summer day in mid-August, and no, the heating isn't broken. The 105-degree temperature is purposeful. According to instructor Angelica Daniele, it's the perfect temperature for practicing hot yoga.
Bikram yoga, also known as hot yoga, was popularized in the 1970s. In Pittsburgh, Yoga Factory, previously known as Bikram Yoga Pittsburgh, has been offering the classes for nearly a decade.
"The heat adds a whole other layer to things because the room is heated to above your normal body temperature," Daniele says. "It's very much a mental practice; people find it reduces their stress. Each posture is designed to open up different parts of your body, to stretch certain organs that don't often get stretched. It serves as a detoxifying mechanism. It serves as a safer environment to stretch."
Until recently, Bikram was the only kind of yoga offered at Yoga Factory. But as the studio has grown, instructors there decided it was time to add new offerings.
"A lot has changed in the hot-yoga world, and while we as a studio believe that Bikram is what will always be the most therapeutic form of yoga, we do understand that students have other needs and wants and curiosities," Daniele says. "There are so many studios in the Pittsburgh area, and we understand that students want variety. Most of our students enjoy the other classes."
The newer class offerings include a high-intensity interval training yoga class, a vinyasa fusion class that incorporates a variety of yoga styles, and a Yoga Jamz class that features music and less verbal instruction.
Yoga Factory also offers a restorative class that Daniele calls "a zen-style yoga."
"It's meant for deep stretching and deep meditation," Daniele says. "You definitely feel refreshed like you just had a nap."
Yoga Factory's regular classes consist of 26 postures and three breathing exercises.
"It's about opening your spine and building strength flexibility and balance. It's always the same class, always the same postures," Daniele says. "It allows you to really check your progress. You can really watch your body change over time."
There is now also an intermediate class for those who want to expand their practice.
And these aren't the only changes at Yoga Factory. The studio has plans to expand and open a rooftop deck for outdoor classes. Right now, yoga enthusiasts can contribute to their expansion through a GoFundMe campaign; it hopes to open the deck next summer.
www.gofundme.com/yogafactorypgh