'Tis the season when local theater companies drag out the red felt, holly leaves and holiday theatrical warhorses, toss them onstage and celebrate the season … while, not coincidently, making a little year-end book-balancing cash.
Bricolage, as usual, mixes it up by serving Charles Dickens with a unique twist. Yinz'r Scrooged is a contemporary Christmas Carol set in Pittsburgh and adapted by Tami Dixon and Sam Turich for the troupe's Midnight Radio series (staged readings presented in the style of radio plays).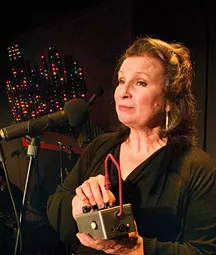 I expected a gag-filled spoof of local people and events, which Yinz'r Scrooged certainly is, but I'm pleasantly surprised that Dixon and Turich went beyond easy jokes and offered some depth. Ebenezer Scrooge is now Jebenezer, running a large, UPMC-type corporation, and his bank balance is as large as his heart is small. The writers have a lot of fun spinning Victorian characters and attitudes into recognizable Pittsburgh memes. But they refuse to sentimentalize Dickens' socialist ideals, and they have Jebenezer furiously denounce unionizing attempts and belittle the Fight for $15 campaign. Amid all the laughs the show generates, and it's a lot, I could feel pockets of neo-economical unease in the audience. Dickens would have been very happy.
As usual with the Midnight Radio series, the talent on display is top-notch — musicians James Rushin with George Elliot and Kira Bokalders (the Bah Humbugs) are a constant joy, and the five-person cast is delightful. Howard Elson is a terrific Jebenezer, expertly lacing his comic villain with a hard-edged bitterness. Lissa Brennan is amazing employing several different versions of a Pittsburgh accent; her terminally bored soup-kitchen functionary is a hoot. (Brennan is a frequent CP contributor.)
Sheila McKenna, as she's proved so often, is one of our city's most outstanding comedians and wrings laughs out of even the simplest line … which she does again and again. Matching her on every level is Connor McCanlus, whose pathetically doomed "Tiny Tony" is gloriously unhinged. And Michael McBurney's affectionate parody of Mister Rogers as the Ghost of Christmas Past was, for me, the evening's highlight.
As they say in the show: "God bless yinz, everyone."