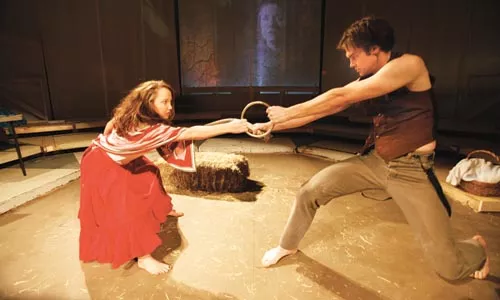 Part of the joy of seeing Yerma on opening night was looking up, beyond the actors on stage, and watching the audience: Their faces were a patchwork of confusion, apprehension and despair. Their eyes squinted with puzzlement, their brows knit with polite concern. Some looked alarmed, as if they didn't know where they were. Couples traded glances, as if to ask, Do you know what's going on?
Quantum Theatre has produced some uncanny shows in recent years, from Kafka's Chimp, an avant-garde opera, to The Collected Works of Billy the Kid, a chaotic cowboy dreamscape. Yerma, written by the great Spanish playwright Federico Garcia Lorca, is hardly the company's strangest fare. The plot is straightforward, the writing is 20th-century and fluidly translated. So why the daft expressions?
Basically, Pittsburgh doesn't really get Spanish culture, and Yerma is as Spanish a story as they come. Yerma is a peasant woman living in the country with her overworked husband. Her marriage was arranged and her wifely duties made plain: Bear children. Whether Yerma is barren or Juan has a low sperm-count is unclear, but either way, Yerma's clock is ticking fiercely. She tries everything: seducing her husband, lighting prayer candles, magical spells -- she even flashes bedroom eyes at handsome young Victor, the official village hunk. Yerma isn't exactly a free spirit, running with abandon through the Castilian hills, but that's how her husband perceives her, and a lot of arguing ensues. There's family honor at stake, after all.
Quantum's production is deceptively simple, and despite the video projections of sheep flocks and ghost-babies, the barren set demonstrates how much can be done with two bales of hay and a strip of blue cloth. Director Melanie Dreyer has gathered a very special cast -- a tight, talented ensemble, both student and professional, including Melinda Helfrich as Yerma, Fermin Suarez, Jarid Faubel and Laura Mixon. Throughout, Ethan Margolis plays a continuous soundtrack on his guitar, singing songs of longing. Dramatic moments are punctuated by the appearance of Cihtli Ocampo, who stomps the floor with fiery flamenco.
And here is the play's hubris: Pittsburgh is hopelessly deprived of Spanish culture, be it Continental or by way of Latin America, and stories from the Spanish Diaspora have a certain passion, a certain corazon, that isn't easy for an overcast steel town to digest. Poetic wailing about family honor and a "woman's place" sounds tinny in Pittsburghers' ears. Most unnerving of all was Ocampo's dancing -- flamenco so seductive, so heartfelt, so defined by rolling hips and tortured eyes, that subscribers in the front rows looked almost ashamed to perceive her.
What this city needs is more spice.
Yerma continues through April 26. Quantum Theatre at ArtDimensions Pittsburgh, 6000 Penn Ave., East Liberty. 412-394-3353 or www.quantumtheatre.com