Two kids from Fox Chapel recently made news that spread throughout the country. Not for training dancing horses or racing yachts — that town's preferred snooty sports — but for their plea to bring an NBA team to the city of Pittsburgh.
It's an idea that's been floated in these parts since the Condors folded, but never seems to garner much public support. Still, you have to love these kids' optimism. It's the kind of positive thinking that can come only from someone who has not yet been beaten down by life. They still think everything in life will turn out as planned. These two youngsters raised $2,600 to rent a couple of billboards to get the basketball idea rolling. They are real go-getters. I've never accrued any amount of money that required a comma.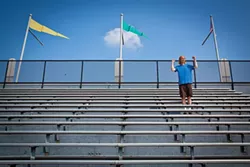 The biggest argument against bringing in a team is the price of a ticket. Penguins tickets are already a little steep, and we are not a wealthy city (notwithstanding the constant building of luxury apartments and condos Downtown, which suggests we're loaded with one-percenters). But a bankrupt country can always scrape up money to go to war, and a poor person can always scrounge money for cigarettes and beer. So with that unaccredited philosophy we could pull it off. Cities that nobody cares about, like Sacramento, Salt Lake City and Oklahoma City, all support an NBA team.
We don't have a team yet, but if we assembled some of the city's best playground ballers we might already be able to beat the Philadelphia 76ers. And if we did get a team, we would probably win an NBA championship before Cleveland ever does. We could hate the Cavaliers so much. Once our team started winning, basketball fever would immediately catch on. We once supported indoor soccer, lacrosse and even a men's slow-pitch softball team, so why not a professional basketball team?
More positives: We would have a whole new set of athletes to boo and trash-talk and a new set of professional referees to hate and blame everything on when we aren't playing well. Just having premier athletes like LeBron James, Steph Curry, Anthony Davis and James Harden come to Allegheny County would be exciting and new, like the Love Boat (I can't resist outdated references). With all the NBA players in town, a Kardashian or two is bound to follow. OK, maybe that's a negative, but we need something to watch from November to April on the days the Penguins aren't playing. As long as the NBA schedules around Steelers games, we'll be all right.
The most recent pro hoops teams in the city had the names Rens, Pipers and Condors. We can do better. My suggestion is the Pittsburgh Coopers, after Chuck Cooper. Cooper was a Westinghouse High graduate who played college ball at Duquesne and was the first African-American player to be drafted by the NBA. If that's not impressive enough, he was maybe the best player in Dukes history and served in the Navy during World War II. Top that, LeBron. Cooper was drafted by the Boston Celtics in 1950. He played six seasons in the NBA before retiring after a car accident. It's crazy that there's nothing besides a building on the Duquesne campus named after him. After basketball, he returned to Pittsburgh to become the first African American to head Parks and Recreation in the city, and was even on the school board. If we name the team Coopers, we can say, "He's not saying boo, he's saying Cooooopers."
Congratulations to the Hanna brothers, Freddy and Jimmy, for bringing this idea to the attention of a new generation of young people. The prospect of actually getting a team still appears unlikely, as the NBA commissioner himself told the Hanna brothers. Expansion is inevitable, but the league is looking to expand internationally. So the best hope is to get a team to relocate here. Stick with it, Hannas, you've shown your determination and enthusiasm. Use your Fox Chapel connections to make a lot of money and get a team here. You guys can be the next Mark Cuban and own your own franchise. I'll be there at the Consol Energy Center chanting, "Here we go Coopers, here we go," enthusiastically, from the cheap seats.