We need more boxing events in Pittsburgh. Sure, it's an archaic practice akin to bygone pursuits like dueling, but it is fun to watch. It's no surprise that our area has produced an impressive array of pugilists in the "sweet science." It's the one science that nobody protests. The big name nowadays is Sammy Vasquez Jr., a 20-0 welterweight from Monessen who looks destined to get a world-title shot. But there have been a lot of greats before him. So this week we are going to look at the top five boxers from Pittsburgh in the past 100 years.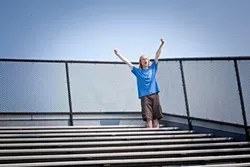 5. Bob "The Grinder" Baker. I think he was torn between hoagie and grinder as a nickname and chose wisely. Canonsburg gave us Perry Como, Bobby Vinton and arguments over chairs on the street during the annual July 4th parade. It also contributed an incredible heavyweight boxer who finished his career at 51-16, with 20 knockouts. The Grinder was knocked out once in his carrer — by Archie Moore, in 1954. Considering that Moore, the "Old Mongoose" (boxing nicknames are so gloriously weird), earned 131 of his 185 wins by knockout, Baker has no reason to feel shame. Baker never got his chance to box the great Rocky Marciano. If he had, white people might never have had Marciano to talk endlessly about. Baker was so Pittsburgh that in the 1980s, he worked for PennDOT in Penn Hills. He reportedly never spoke of his fame or his many accomplishments.
4. Michael Moorer. The Monessen Mauler is one of only four boxers in history to win world titles in both the light-heavyweight and heavyweight divisions. His defeat of Evander Holyfield in 1994 made him the first left-handed heavyweight champ. His reign lasted only nine months; he lost his title to 87-year-old George Foreman. The loss was the first of his pro career. He wasn't a bad bar fighter either: His numerous encounters outside the ring included a fight at an Elks club. You can't take the Pittsburgh out of this guy, but a stellar 52-4-1 record will one day get him a spot in the Boxing Hall of Fame.
3. Billy Conn. The original Pittsburgh Kid was the Rocky Balboa of his day. He took Joe Louis, the heavyweight champion of the world and one of the greatest fighters in history, to the brink of defeat only to come up a bit short. His fights with Louis drew more Americans to boxing than any others. Conn was 64-12 and those wins came in 15-round fights against the best opponents of the day. At the age of 75 — almost 50 years after fighting Louis — he beat up a robber at a local convenience store.
2. Paul Spadafora. Even with a jurisprudence report as long as his list of accomplishments, you can't deny that the other Pittsburgh Kid was a great fighter. At 48-1, he has the rightful claim to the title of the toughest guy in McKees Rocks, including dudes from the Bottoms. He has been shot and has shot at people. Spaddy was a boxing machine, even out-sparring Floyd Mayweather in a once-viral video. All his troubles have severely hampered his career, and he hasn't been in a ring since November 2014.
1. Harry Greb. The best of all time is the biggest Pittsburgh badass you've probably never heard of. Greb, known as the Pittsburgh Windmill and the Smoke City Wildcat, lived only 32 years but won 261 fights between 1913 and 1926. The International Boxing Research Organization ranked him the second greatest pound-for-pound boxer in the long history of the sport. Only the great Sugar Ray Robinson was better. Greb delivered punches with unrestrained fury. He even continued to fight after being blinded in one eye. Greb was the only boxer in history to best the legendary Gene Tunney. He was such a tough guy he once fought 45 times in one year. Nobody can top that.
If you live in Pittsburgh, chances are you will eventually have to fight someone for some reason or another. It might be over a parking spot, or in a bar fight because some yahoo thinks he's better than you. If this happens, don't be scared. Just remember this city's proud boxing tradition and give them a taste of the windmill.