University of Pittsburgh's women's head basketball coach Suzie McConnell-Serio is better than you or me. Those are my words, not hers, and I can prove that assertion.
Now, of course, lots of people are better than me — even monthly-pass-holding Port Authority riders are better than me. (Highfalutin show-offs with their season tickets to the bus are always rubbing in their superiority.) But unless you've been named one of the 100 greatest athletes in the state of Pennsylvania by Sports Illustrated; were a high school and collegiate standout; won coach of the year at a professional level; reside in your sport's Hall of Fame; won two Olympic medals; and raised four children, then, yes, Suzie McConnell-Serio is likely better than you. If the day arrives when this city comes to its senses and finally puts up a statue of a Pittsburgh sports star who's not a guy, there is no better candidate.
McConnell-Serio's list of accomplishments reads longer, and certainly more glorious, than an off-season NFL jurisprudence report. The Seton-La Salle Rebels and Penn State Nittany Lions all-star turned the Minnesota Lynx, of the WNBA, into a winning franchise, taking home coach of the year there in 2008. She even helped a Cleveland team — the now-defunct Rockers — to a winning season. She didn't win a championship in Cleveland, but I never claimed she was a deity. The sighting of a Cleveland victory parade was last reported 51 years ago, after all.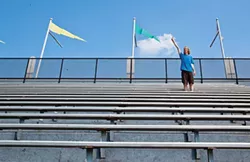 After righting the ship with the Lady Dukes, of Duquesne — where she went 123-68 in six seasons — she is now in charge of Pitt's program. She is in the midst of turning around a program that went 9-21 in the 2012-13 season. In just the second year of McConnell-Serio's watch, the Panthers were 20-12 last year — she has the Midas touch indeed. In fact, one of the aforementioned Olympic medals is a gold one, picked up in 1988 in Seoul, South Korea. Not bad for a local girl.
This year's Panthers squad looks to improve on that mark, a goal made tougher after the graduation of Brianna Kiesel last year. The three-time team captain was the first player in Pitt women's hoops history to have 1,500 points, 500 rebounds and 400 assists in a career. She has moved on to Oklahoma, where she just made the team for the WNBA's Tulsa Shock.
Three sophomores will try to replace Kiesel's Oscar Robertson-like statistics. As a freshman, Chicago native Aysia Bugg had 75 assists and started all but three games. Yacine Diop, who like McConnell-Serio attended Seton-La Salle, is a rebounding force averaging more than seven boards a game. She's not only a great athlete, but she can speak three languages fluently. Some people, like myself, have trouble with one. Diop steadies the front court with Stasha Carey right next to her. Carey had the fourth-most rebounds by a freshman in Pitt history when she managed to come down with the ball 245 times last year. Add in Destinie Gibbs, a red-shirt junior transfer from the University of Southern California; 6'11" shot-block specialist Bubbles Anderson; and Canadian three-point sniper Fred Potvin, and this is a well-rounded team. It is a young team as well — no seniors. McConnell-Serio also added five freshman to round out the roster. (Just to make everyone feel old, today's freshmen were born in 1997.)
Playing in the historic Atlantic Coast Conference doesn't make McConnell-Serio's job any easier. This is a conference of juggernauts. The North Carolina Tar Heels, Florida State Seminoles, Louisville Cardinals and Duke Blue Devils are all in the preseason top 12. ACC teams dominate the charts like The Beatles in 1965. If Suzie McConnell-Serio can lead these Panthers to greatness through this murderer's row of basketball nobility, we should start melting the bronze and looking for a spot for that new statue.