With apologies to no-good street punks and biker gangs everywhere, no one is tougher than a hockey player. Hockey is a game played on a solid sheet of ice with 24 razor-thin blades flying around at insane speeds. Throw in big wooden sticks and a frozen vulcanized-rubber puck, and you have a game that is not for the weak.
In 1996, Chatham University became the first college in Pennsylvania to put together an NCAA women's hockey team. Pittsburgh is a city full of tough guys, especially those dudes that wear shorts in the winter, but few are tougher than the intelligent young women on this team.
Six times a week, these athletes are on the ice playing or practicing. While most college students spend their weekends dabbling in borderline illegal activities, these women are playing hockey. Head coach Jason Evans, a product of Robert Morris University and Carrick High School, is beginning his fifth season at the helm of the Chatham Cougars. This team has players from Alaska, North Carolina, Missouri and, as you may expect, Canada. Hell, Karlee Kaufman comes all the way from Mars (Pa., which isn't actually that far except when traffic sucks). The former Fightin' Planet high school product is one of two local stars, alongside Kelsey Stanton from Cannon-Mac in Washington, Pa.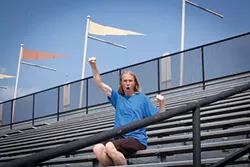 Last season the Cougars just missed the Eastern College Athletic Conference West playoffs by one point. This year the team opened the season with back-to-back games against the defending champion, Plattsburgh (yes, with an "h" on the end) Cardinals. Game one was a tough 4-0 defeat. Goalie Sydney Isbell, from Thunder Bay, Ontario, managed to stop 38 of the 42 shots that the champs peppered at her. It was still better than the second game, which the Cougars lost 8-0. Plattsburgh State (I hate them so much) is the school that gave us actor Tim Robbins and disgraced former politician/dick-pic aficionado Anthony Weiner. Its other claim to fame is that Peter Frampton recorded his live version of "Do You Feel Like We Do" there. Surprisingly, the talking guitar of the future never caught on for some reason. But none of Plattsburgh's "rich history" can match Chatham, which gave the world Rachel Carson.
Carson was a conservationist and marine biologist who is credited with starting the worldwide environmental movement by making people aware of harmful pesticides. She has been awarded the Presidential Medal of Freedom, the highest honor a U.S. civilian can obtain. Plus, a hiking trail and bridge in Pittsburgh, and numerous schools are named after her. She is arguably the most famous woman from Pittsburgh this side of Gertrude Stein and Christina Aguilera.
Since a tough start to the season, though, the Cougars have won three of their last six games. Chatham traveled to Geneva, N.Y. for its last game and took the second game of the series against William Smith College. A 6-2 victory over Big Willie Style (as I now call that school) moved its record to 3-6. Down 2-0 early, the Cougars rallied for the tie followed by Katrina Hawkins' first goal of the year. A power-play goal from Jenny Jones put them ahead for good. Kaufman then ripped a blue-line screamer to net her second career goal. The team effort was backed by Kasandra Petersen, who stopped 23 of 25 shots.
Chatham plays games almost every weekend, all back-to-back on Fridays and Saturdays. Next month, they host Oswego at 5 p.m. on Jan. 15, followed by a 3 p.m. Saturday tilt. On Jan. 22 and 23, Elmira comes to town. All the games are in Harmarville at the Alpha Ice Complex, and all the seats are just as we like them — good and cheap. Go out and support Chatham Cougars hockey. These women are smarter and tougher than you or me, especially me.